An employee is installing a security camera when he slips and falls off a ladder. Another strains her back while installing wires. The people who work for your company are one of your most important assets. So when they suffer work-related injuries or illnesses like these, you feel it. But the cost goes beyond your concern for their well-being.
Just one person off the job can lead to direct costs, such as hiring and training a temp, as well as indirect costs from reduced productivity and morale. It adds up quickly, which is why workers' compensation is such a vital part of your insurance package. After a workplace injury or illness, it's your primary resource in helping to reduce costly claims.
Taking Care of Your Business as Well as Your Employees
You may already have a rigorous risk management program in place, but accidents happen. When they do, you need a carrier with solid experience to back your workers' compensation policy.
As one of the largest workers' comp carriers in the country, The Hartford can provide a comprehensive package designed for the unique needs of alarm contractors. Take a look at what makes it a good value for your company.
At no additional cost, our broad form endorsement goes beyond the standard policy. With The Hartford, you get more value for your premium. Our coverage reimburses you for reasonable expenses, such as loss of earnings that result from a claim, or from a proceeding or lawsuit we defend – something the standard policy doesn't cover. It helps you avoid coverage gaps, too, with the following features:
You have 60 days, versus the industry standard of 30 days, to notify us about adding states where you've set up new operations
Voluntary compensation for employees who are not covered by state statute
Employer's liability stop-gap coverage for all states with a monopolistic state fund
We've negotiated better rates with preferred medical provider networks. It adds up to more than 1,000,000 healthcare providers countrywide. The Hartford experienced network versus non-network care improvements are in the range of 18+ percent indemnity and 10+ percent medical.1 Which means significant savings on quality care.
A pharmacy benefit that's easier on the wallet. It provides access to nearly 65,000 network pharmacies countrywide. And, in most cases, without out-of-pocket expenses for the injured worker.
Experienced nurse case managers on each claim from the start. They're all RNs with the expertise to help with medical cases that are complex or involve time away from work. As soon as a claim occurs, they get to work assessing an injured employee's needs so that the right care is offered. More than that, they can spare your employees time and confusion by guiding them through the complex healthcare system. Coordinating their care among multiple providers and facilities. And staying in touch with doctors and other providers so our claim managers have accurate, up-to-date information. They can also:
Align doctors' treatments to the employee's return-to-work goals
Solve treatment scheduling issues and other barriers to timely care
Consult with claims handlers on specific medical issues of a claim
Help from our Team•Work return-to-work program. Getting injured employees back as soon as medically appropriate takes collaboration. Our Team•Work program brings employees together with a risk manager/supervisor, nurse case manager, medical providers, and risk engineering experts. So they can return to health, as well as work, with confidence.
Initially, an injured employee may not be able to return to the same job. By focusing on abilities rather than disabilities, Team•Work can help you assign transitional duties, so your employee feels engaged while staying involved and productive. It could be through part-time work or temporary assignments at first. But in most cases, the employee eventually returns to his or her prior position.
What if an employee isn't able to return to the same job? We can usually help identify alternative positions that use your employee's skills productively. So you retain a valuable asset to your organization.
In any case, you benefit. Employees who feel valued are more likely to be productive. And getting injured employees back to work sooner reduces time loss. Both can improve your cost of doing business.
Payroll billing helps free up cash flow. We know times are challenging for business owners with cash and credit in short supply. When audit payments, down payments and first installments come due at the same time, a business can suffer a real squeeze. To help, we offer XactPAY Xpress,® a self-reported billing solution that matches workers' comp premium payments to your actual payroll amounts and pay periods.2
It takes the pressure off four ways:
Reduces large premium down payments
Eliminates billing charges
Manages cash flow
Mitigates audit surprises by basing your workers' comp premium charges on actual, real-time payroll
What's a day worth? Lost work time costs employers $85 per day on average, and that doesn't include medical costs. Our workers' comp customers find that with Team•Work their injured employees return to work an average of seven days earlier. That's more than a week of productive work for your business.
Tips for Reporting a Claim
Quick and efficient reporting is safer for your employee and better in the long run for your business. Here are some tips for effectively reporting a claim and getting your workers safely back on the job.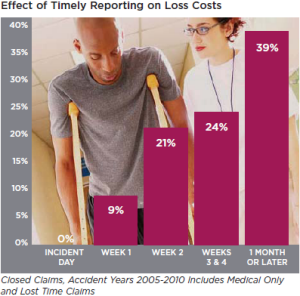 Report your incident early. Because workers' compensation claims tend to be complex, your insurance carrier needs to gather detailed information during the claim reporting call. By understanding the incident early in the process, they can manage the claim more effectively – good for your injured employee and your company.
Have your facts handy before you call. You can speed up the process by gathering this information ahead of time:
Company information: Account number, policy number, location code
Injured worker information: Name, date of birth, address, phone, Social Security number, age, gender, hire date, etc.
Details of incident: When was the accident reported to you and by whom (date, time)? Where did the injury/illness occur? What type of injury (burn, cut, etc.)? What was the cause of the accident (slip & fall, struck by an object, etc.)? Did anyone witness the accident? If so, who?
Start thinking about the return to work from the start. Have job descriptions ready and available for the claims handler and medical providers. This will help clarify your employee's abilities and skills. Remember, the longer an injured worker is out of the workforce, the harder it is to return. By providing these facts, you're opening up possibilities that could make all the difference.
Why The Hartford?
When you choose The Hartford for workers' comp insurance, you get comprehensive coverage from people who understand your business. And the peace of mind that comes from knowing your alarm business is covered by an insurer with over 200 years of experience and a commitment to policyholders.
Since 1995, we've been protecting alarm contractors with all-lines coverage, including workers' compensation. You can continue to count on us to deliver the tailored insurance coverage that you and your employees need today and tomorrow. Call us at 1-800-533-7824 for additional information.

1 For claims extending two years or more, based on 2000-2007 data.
2 Pay-as-you-go billing for eligible businesses has partnered with enrolled payroll providers, including Intuit QuickBooks®; to be eligible for payroll billing, accounts must meet certain financial and underwriting requirements.
Note: The Alarm Contractors Insurance Program is not available in the states of Alaska and Hawaii. General liability must be submitted and written to consider any other line of business.
This document outlines in general terms the coverages that may be afforded under a Hartford policy. All policies must be examined carefully to determine suitability for your needs and to identify any exclusions, limitations or any other terms and conditions that may specifically affect coverage. In the event of a conflict, the terms and conditions of the policy prevail. All Hartford coverages described in this document may be offered by one or more of the property and casualty insurance company subsidiaries of The Hartford Financial Services Group, Inc.
Possession of these materials by a licensed insurance producer does not mean that such producer is an authorized agent of The Hartford. To ascertain whether a producer is a Hartford agent, please contact your state Department of Insurance or The Hartford at 1-888-203-3823. All information and representations herein are as of October 2014.
The Hartford® is The Hartford Financial Services Group, Inc. and its subsidiaries, including issuing companies, Hartford Fire Insurance Company, Hartford Life Insurance Company and Hartford Life and Accident Insurance Company. Its headquarters is in Hartford, CT.