By Dr. Adam L. Seidner
Workers may develop health problems that temporarily or permanently prevent them from returning to work. Even though many injured workers are capable of staying at work during recovery – or returning after a brief recovery period – administrative roadblocks may hinder their return to work at full duty.
Employers are very important when it comes to return to work. The employer's role is to:
Assist the injured worker in accessing adequate health care.
Provide the opportunity to return to work at full duty as soon as possible.
Consider offering alternative work or modified duty – if a complete return to full duty isn't possible.
Alternative Work Can Help Improve Outcomes
The number of medical-related lost workdays can be reduced by:
Minimizing the undue focus on a complete return to full duty – without restrictions
and
Considering acceptable options for a gradual and/or partial return to work – with some accommodation
This is where an effective Stay-at-Work/Return-to-Work (SAW/RTW) program comes in. This type of program:
Assesses whether, when and how a worker returns to work during or after recovery.
Aims to keep an employee working at an appropriate level despite a medical condition.
Assessing an Injured Worker's Ability to Work
The SAW/RTW program evaluation process begins when a medical condition or other precipitating event occurs. The employee's current ability to work is assessed on three important dimensions:
Functional capacity – What can they do today?
Functional impairments or limitations – What can't they do today that they could do before?
Medically based restrictions – What should they not do because it may cause medical harm?
The demands of the worker's usual job – and temporary alternative tasks available – should be compared with the worker's current functional capacity, limitations and medical restrictions. The employer should identify the practical actions necessary to bridge any gaps in returning the employee to work, and should consider alternative work activities.
Alternative Work/Modified Duty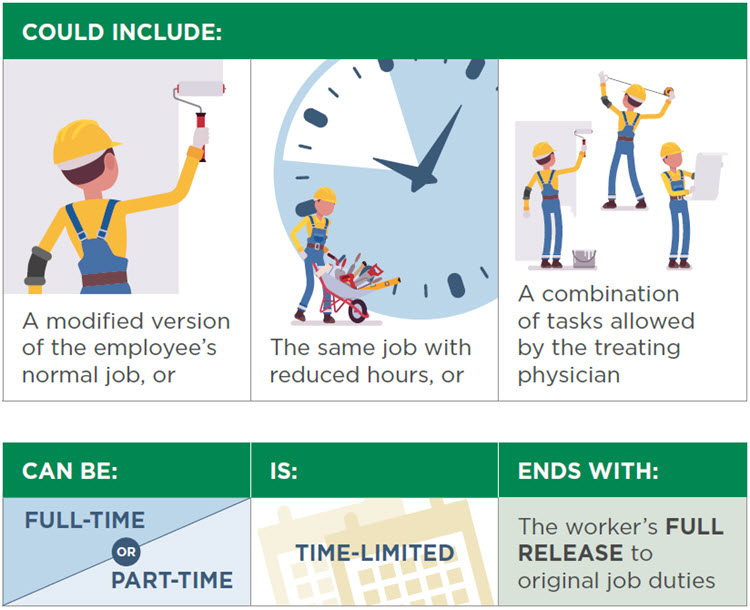 Modified duty programs and proactive RTW policies have been shown to be effective at returning employees to work, leading to more favorable outcomes.
Supervisor Response Impacts RTW
Workers with disabling conditions indicate that a major determinant in whether they return to work is the responsiveness of their supervisor. Supervisors play an important role in return-to-work processes by:
Modifying work.
Facilitating access to company and medical resources.
Monitoring the worker's recovery.
Communicating a positive message of concern and support.
Maintaining communication with the employee.
Being ready to accommodate and support the employee through their recovery.
Involvement from an industrial hygienist or safety professional specializing in ergonomics also increases the level of support provided to the ill or injured worker.
Recommendations for Employers
Implement and use a SAW/RTW program to promote healthy workplaces, improve injured worker outcomes and minimize lost productivity. This type of program is defined as any process that minimizes disability from occupational injuries and illnesses. Program components include planning, training and accommodation.
Actively attempt to return an injured employee to work at the earliest opportunity, provided the treating physician has approved the proposed work arrangement.
Work with all available resources to develop partnerships that facilitate SAW/RTW programs. Stakeholders to partner with include:

The workers' compensation insurance company case manager – who coordinates contact with health care providers, employees and managers/supervisors.
A safety or management representative – that can work with supervisors to modify tasks or worksites and arrange alternate work assignments.
Employees, supervisors and human resources professionals – who must be continuously educated about the SAW/RTW process and its benefits.
Treating physicians – who have experience in disability prevention and management, and understand their role in the SAW/RTW process.
Workers' compensation insurance carriers may have already determined which physicians demonstrate proficiency in managing work-related injuries. At The Hartford, we've developed select provider networks to facilitate proper medical management and encourage return to work.
Selecting a physician within an insurance company's network, combined with a physician education program, can lead to more favorable outcomes for injured workers.
About the Author
Dr. Adam Seidner, MD, MPH, is the chief medical officer for The Hartford. He is responsible for The Hartford's strategy and policy across all lines of business with a particular focus on workers' compensation and disability management.