By Elizabeth Goede and Dr. Adam L. Seidner
In our last
return-to-work article
, we learned that there are a number of reasons why injured workers may struggle with timely recovery and return to work. Historically, medical and case management strategies have been a major driver of improved recovery outcomes for illness or injury. However, The Hartford's research suggests that these strategies are only one component of a successful return-to-work process.
Key Factors That Contribute to Delayed Recovery
The Hartford has examined the reasons why some individuals still experience pain long after normal healing expectations. We found a significant correlation between how long-lasting and chronic the pain is – and the effects of personal expectations and other behavioral factors.
These behavioral risk factors – also referred to as biopsychosocial elements – can include:
Fear
Passivity
Catastrophic thinking
Perceived injustice
Lack of coping skills
Influences – such as a person's belief about the cause, consequence and controllability of health problems – are important determinants in the way people respond and recuperate from an illness or injury condition.
Behavioral Risk Factors Affecting Recovery
(Biopsychosocial Elements)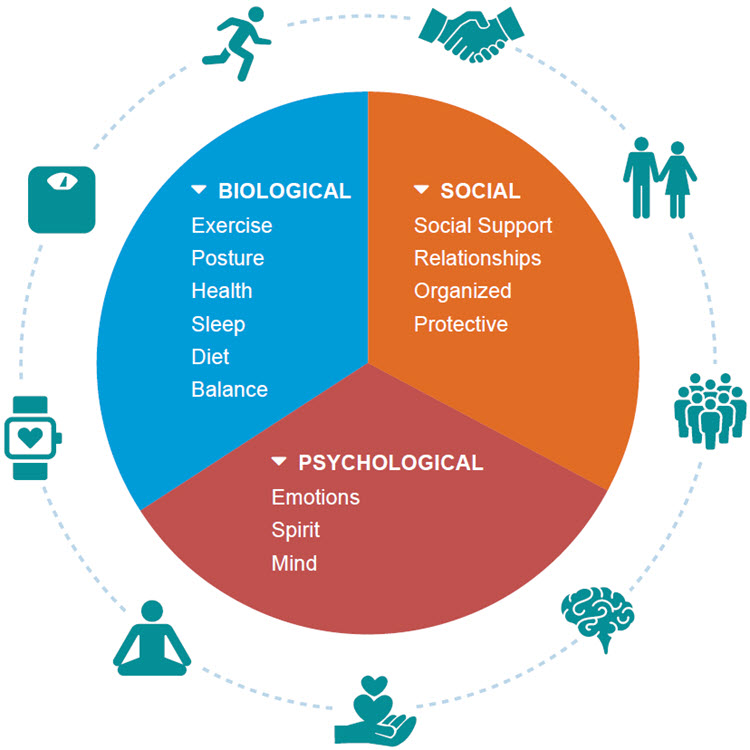 Both internal and external factors influence how biopsychosocial elements shown in the infographic affect a person's development of avoidable disability, chronic pain and lingering recovery.
Here are examples of some behavioral risk factors and the impact they can have on an injured worker: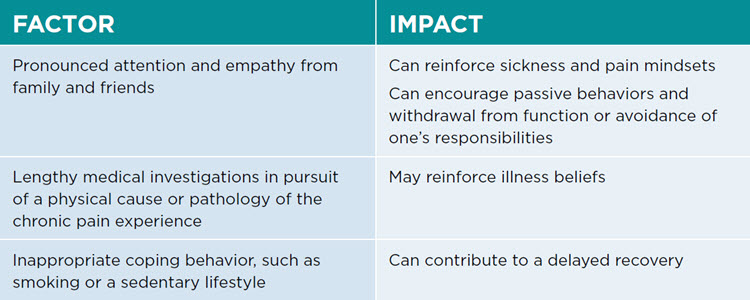 iRECOVER® Can Help
To support our mission to help injured workers recover and return to pre-injury functions as soon as possible, The Hartford has developed an innovative program called iRECOVER. This program uses advanced data analytics and predictive modeling to help improve recovery and claim outcomes.
Our data analytics team developed the Claimant Outlier Model tool (COM), which allows us to:
Text mine for many risk factors, including psychosocial yellow flags and comorbid conditions
Identify individuals at risk for developing chronic pain and disability
How iRECOVER Works
Driven by data analytics, The Hartford's iRECOVER program offers a personalized approach to recovery, which can lead to earlier return to work and improved claim outcomes. Here's a brief overview of how the program works.
Through our iRECOVER program, The Hartford:
Identifies injured workers (claimants) at higher risk for prolonged recovery
Invites them to work with a specified health coach (participation is voluntary)
Sends an initial toolkit to those who accept

Includes workbook, pedometer and audio materials designed to complement the intervention
Encourages participant engagement in exercises and activities designed to help them achieve their recovery and function goals

Addresses aspects of recovery (through personalized coaching).

Addresses inactivity, fear and "fear avoidant behaviors," causing people to avoid activity because of anticipated pain, poor sleep, stress and anger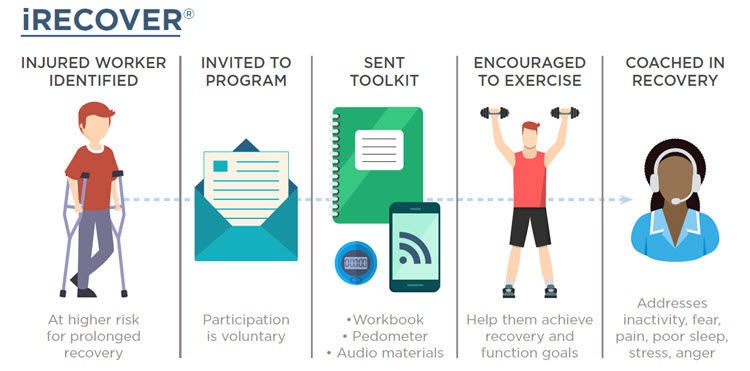 Early Intervention Leads to Improved Outcomes
Medical literature and research confirms that early biopsychosocial interventions – designed to mitigate behavioral risk factors (regardless of line of business or diagnosis) – lead to improved claim outcomes.
iRECOVER is an intervention program designed to help disabled claimants overcome powerful barriers to return to work. It also helps them become active participants in their recovery, ensuring they can safely return to their active and productive lives. Our proprietary program employs a coach, workbook and tools to teach and develop the skills necessary to address emotional reactions, positively influence behavior and improve a person's ability to recover from an illness or injury condition.
For more information on iRECOVER, contact your representative at The Hartford.
About the Authors
Elizabeth Goede is The Hartford's first psychosocial strategy director and co-developer of our exclusive iRECOVER program. She is responsible for developing a continuum of psychosocial interventions to meet the complex needs for workers' compensation and disability claims.
Dr. Adam Seidner, MD, MPH, is the chief medical officer for The Hartford. He is responsible for The Hartford's strategy and policy across all lines of business with a particular focus on workers' compensation and disability management.