By Dr. Adam L. Seidner
More than 130 people
in the United States die every day from an opioid overdose. In fact, Americans are more likely to die from an opioid overdose than in a motor vehicle accident, according to a recent report from the
National Safety Council
.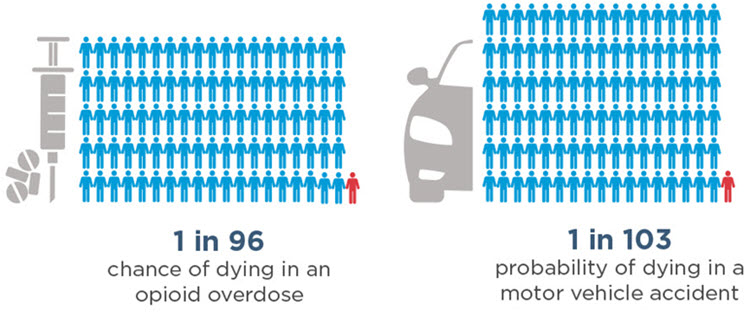 The opioid epidemic is devastating families, communities and businesses. As a leader in workers' compensation and group disability insurance, we've seen the epidemic's impact on the workplace as well.
The Hartford recently conducted a
national survey
, which shows how opioids are having a growing impact on employers of all sizes. Employers with between 51-500 employees report the opioid epidemic is impacting them more than smaller businesses with 1-50 employees, but less than larger companies (501 or more workers). The Hartford has developed a comprehensive opioid management strategy, which aligns the right resources and support to reduce the use of opioids.
Industry-Leading Strategy
Our comprehensive opioid management strategy leverages data and analytics, a pharmacy approach with drug review nurses and a coaching intervention program. Since 2015, our strategy has helped reduce opioid use for our customers by 43 percent.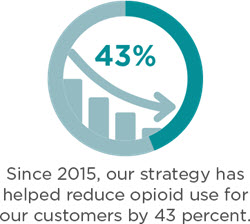 At the center of our strategy is our total worker health approach. We look at how biological, psychological and social factors impact workers' recovery. This bio-psycho-social model explains how genetic, biochemical, behavioral, cultural or familial factors impact the development and progression of health conditions.
Companies who take a total worker health approach have policies to protect worker's health and safety combined with programs to advance worker well-being. This approach creates a working environment that improves creativity, innovation and productivity leading to healthier employees. This in turn benefits the employer because healthier employees have less lost work days and absences as well as fewer health costs.
The Hartford's
risk engineering
team partners with customers to help create safe work environments for their employees. When a worker does become injured or sick, we have programs to help them recover and return to work as safely and quickly as possible and prevent addiction.
Reducing Opioid Prescriptions

Did you know that about 30 percent of all Americans have been prescribed an opioid and
one in five
who start a 10-day supply become longer-term users?
That's why The Hartford's pharmacy approach is focused on reducing the excessive prescription of opioids through:
Monitoring and reviewing every prescription to ensure it's the best option for recovery while keeping costs down
Leveraging a preferred drug list
Educating medical providers on the safe use of opioids.
We also have Drug Review Nurses assess the more complex cases to ensure the worker is receiving the appropriate care and prescriptions for the situation.
Using Data to Understand & Prevent Addiction
Our Ability Reimagined team uses data analytics to create innovative solutions to mitigate injury risk and help injured workers recover as quickly as possible. The team leverages data to select the best provider for the situation and also make sure the worker receives the appropriate treatment at the right time.
During the recovery process we're also looking at the factors that could impede recovery. We've developed 25 machine learning models that review our claims data and identify psychosocial, co-morbid medical conditions and other risk factors. The models use text and data mining as well as natural language processing to scan and analyze the 130,000 workers' compensations claims files we get each year. This allows us to identify issues early on and intervene as necessary.

When biopsychosocial conditions impede recovery, our iRECOVER® coaching program can help the injured worker address the areas of their life impacting their recovery and help improve their ability to recover.
Join Us in the Fight Against Addiction
The Hartford is determined to make a difference in the opioid epidemic. We're educating, advocating and activating programs that help achieve reductions in opioid use across the country.
In partnership with nonprofit
Shatterproof
, we are providing
free online education
about opioids and addiction designed to foster prevention, treatment and recovery. The program includes helpful information, such as questions to ask your doctor before being prescribed an opioid. You can share the link on your websites, social media or email:
www.thehartfordisshatterproof.org
About the Author
Dr. Adam Seidner, MD, MPH, is the chief medical officer for The Hartford. He is responsible for The Hartford's strategy and policy across all lines of business with a particular focus on workers' compensation and disability management.