By Adam Seidner MD MPH, Chief Medical Officer
and Carl Carano MS CSP, VP Risk Engineering
Nearly all businesses employ workers who are susceptible to musculoskeletal disorders (MSDs). MSDs are soft-tissue injuries that are caused by sudden or sustained exposure to repetitive motion, force, vibration, or awkward positioning. These disorders can affect muscles, nerves, tendons, joints and cartilage in the upper and lower limbs, neck and lower back.

Employers face a number of challenges in preventing work-related MSDs and promoting a safe return to work for an injured employee. One way is through a consultation with a professional ergonomist.
Partners in Preventing Soft-Tissue Injuries
Ergonomists are specialists who maximize the productivity of work processes while minimizing employee exposure to discomfort and injury. They're trained to assist employers in addressing the challenges associated with the safe interface of the worker and tools, equipment and products. Additionally, they can identify industries and job tasks at risk for MSDs, recommending tailored strategies for effective intervention.

At The Hartford, our ergonomic specialists partner with our customers to create practical solutions that minimize loss and improve operational safety and efficiency. Like all of our dedicated Risk Engineering staff, they function as business consultants.
MSDs Are More Likely to Generate Claims Than Other Injuries
All occupational injuries and illnesses impact profitability as well as safety. But MSDs are among the most costly. Take a look at this statistic:

Work-related sprains, strains, and tears are twice as likely to result in a workers' compensation claim as fractures, cuts, lacerations, amputations, bruises, contusions, burns, and chemical burns combined, according to the National Safety Council.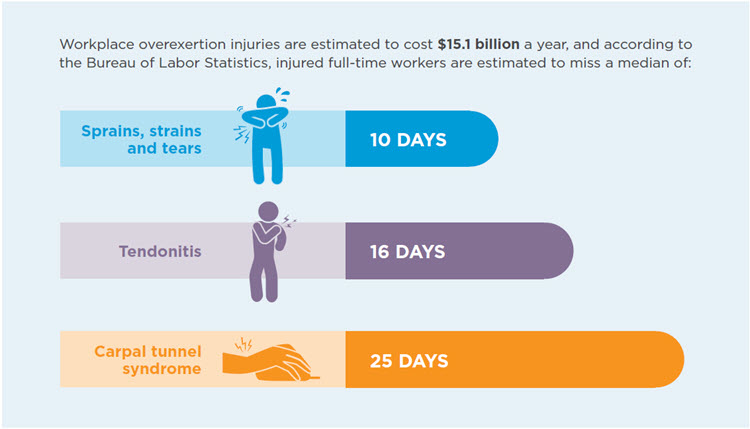 A Thorough Assessment Is the First Step Toward Prevention
An industrial ergonomic assessment is the first step toward reducing exposure to MSDs. The assessment often starts with taking an inventory of the following:
Loss analysis
Job/task evaluations that identify ergonomic risk factors and inefficient processes
Determination of ergonomic priorities
Equipment selection
Identification of both short/long-term solutions
Implementation plan
The assessment also includes a review of management's attitude and commitment toward safety, communication plans and employee engagement. Once the risks are identified, they're placed in a hierarchy according to their degree of exposure controllability. Why create a hierarchy?
Because it helps to target hazards at their source and improve work environment safety. This method is actually more effective than controls that aim to change the behavior of exposed workers.

Protect Bottom Lines as Well as People
At The Hartford, we create a tailored, innovative approach to ergonomics that targets threats to employee safety and develops the controls necessary to reduce or eliminate the exposure. Our priority is to improve outcomes with scientifically supported solutions.
Our Risk Engineering service encompasses two important steps:
Step 1: Provide risk management expertise to identify the risk exposures.
Step 2: Implement tailored business solutions that reduce the exposure, create safer workplaces and promote financial success for our clients.
A Consultative Approach With an Emphasis on Prevention
Positive business outcomes are a direct result of The Hartford's unique approach to assessing and actively managing risk, leading to fewer claims.
Ultimately, here's how the right ergonomic practices can impact the "ergonomics triple bottom line":
Reduces injuries and their associated costs
Enhances productivity by making job tasks more efficient
Reduces re-work or other quality issues that may be caused by inefficient work processes
The Hartford's Tailored Ergonomic Assessment Method (TEAM ApproachSM)
The Hartford's TEAM ApproachSM is an ergonomics method that brings stakeholders together from all organizational levels to make continuous process improvements through five team (5T) steps.

A sample case. We applied the above methodology to employees who worked in a facility that manufactured construction materials. These employees manually handled posts while moving them from the welding area, to the paint booth, and then to storage. The process created multiple musculoskeletal injury exposures and included a number of process inefficiencies.
Risk management experts identified hazards. The Hartford's Risk Engineering consultant met with the insured's management to review the losses related to material handling and the impact to the bottom line. The Hartford's TEAM ApproachSM to ergonomics was used to eliminate the exposures and increase the efficiency of the post-handling operation. The size of post carts and the manual handling of posts were identified as hazards.
A number of engineering modifications were introduced. Post carts were reduced in weight from 400 to 80 pounds and Jib cranes were installed to pick the posts off the carts to eliminate manual handling. Finally, the paint booths were cleaned more frequently so that the carts would roll inside of them with less resistance from dirt and debris.
Substantial return on investment resulted. The employer's total investment for the work changes was $20,000 for the equipment and labor. They immediately realized a $10,000 gain in efficiency and saw improvement in their storage space. Other benefits included a $285,000 Loss Avoidance from the strain injuries from the area and a $206,000 savings in indirect costs, resulting in an impressive return on investment.
Summary: Work Hand in Hand With The Hartford
The Hartford's Risk Engineering Organization can assist employers to create an ergonomically sound work environment. Our ergonomists can make recommendations for designing tasks, work spaces, controls, displays, tools, lighting, and equipment that fit employees' physical capabilities and reduce the potential for injury due to an MSD.
Using the TEAM Approach,SM our staff will work closely with the insured's management, engineers, safety committee, and employees to assess work processes and identify safety risks.
After the assessment, The Hartford Risk Engineering consultant will develop engineering design improvements that address ergonomic risks and create a comprehensive action plan that incorporates the principles of safe and ergonomic job task design.
Contact your representative from The Hartford for additional information on this valuable risk management service.
NSC (National Safety Council) [2015]. National Safety Council Injury Facts: 2015 Edition. Itasca, IL: National Safety Council, http://www.nsc.org/learn/safety- knowledge/Pages/injury-facts.aspx
Lu M, Afanuh S, Dick R, Werren D, and Waters T [2017]. Reducing musculoskeletal disorders among airport baggage screeners and handlers. Cincinnati, OH: U.S. Department of Health and Human Services, Centers for Disease Control and Prevention, National Institute for Occupational Safety and Health, DHHS (NIOSH) Publication No. 2015-201, https://www.cdc.gov/niosh/docs/wp-solutions/2015-201/default.html
BLS [2017]. Injuries, Illnesses, and Fatalities. Washington, D.C.: Department of Labor, Bureau of Labor Statistics, https://www.bls.gov/iif/soii-chart-data-2016. htm#BLS_table_12
NIOSH [2015]. NIOSH Center for Workers' Compensation Studies (CWCS). Cincinnati, OH: U.S. Department of Health and Human Services, Centers for Disease Control and Prevention, National Institute for Occupational Safety and Health, https://www.cdc.gov/niosh/topics/workercomp/cwcs/definition.html