Driving in Nevada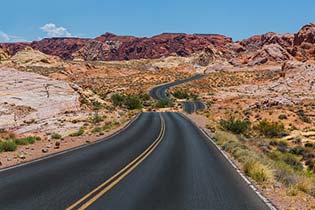 From the hustle and bustle of Sin City to the lonely roads cutting through the thousands of miles of desert, Nevada is a driver's paradise. You can cruise down The Strip to take in the sights of one of America's most famous cities. Just 50 miles away, you can venture down a desolate road with no other vehicles in sight.
From highways traversing 8,000-foot mountain ranges to snowy passes in the winter, driving here is unlike driving anywhere else in the country. This means that it comes with its own unique challenges. Here are some things to know before getting behind the wheel in the Silver State:
Automobile Insurance in Nevada
$25,000 for bodily injury, per person per accident
$50,000 for bodily injury, total per accident
$20,000 for property damage per accident
Most drivers opt for higher liability coverage, as well as collision coverage and comprehensive coverage if they have newer vehicles. This makes sense considering
the average cost of an accident is $15,443
for bodily injury and $3,231 for property damage, according to Las Vegas attorney Dallas Horton.
Proof of insurance must be kept in the vehicle at all times and presented to law enforcement upon request. Police use the Nevada LIVE verification system to immediately validate insurance coverage. Unlike some states, Nevada has no grace period for a lapse in coverage so even a lapse of a single day could result in a driver license suspension.
A State Made for Driving
Encompassing more than 110,000 square miles of desert and ranked as one of the least-densely populated states, Nevada is a wide-open road for drivers. Outside the major urban areas of Las Vegas and Reno, the state is rural, mountainous desert.
It's no surprise, therefore, that cars are a big deal here. A number of television shows are filmed in Las Vegas, including Counting Cars and Strip N' Rip. The popular show Pawn Stars, which is also filmed in Las Vegas, regularly features hot rods and motorcycles.
But, Las Vegas isn't the only area with a lively car culture. In Reno, the
National Automobile Museum
features more than 200 unique cars chronicling automobile history from the late-1800s to the current age of space exploration. In the small town of Goldfield, the
International Car Forest of the Last Church
features more than 40 junked and graffiti automobiles delicately balanced or stacked on top of one another.
The state is also home to a number of race tracks, such as the Las Vegas Motor Speedway – one of the largest of its kind in the country and host to major NASCAR events. And there are
more than 22,000 classic cars registered in Nevada
, according to the Reno Gazette-Journal.
Although nostalgic vehicles are popular, Nevada is also involved in the innovation of modern automobiles. In 2012, it became the first state to legalize self-driving vehicles on its roads. In 2015, Gov. Brian Sandoval took to the roads in Daimler's first autonomous 18-wheeler. And in early 2017, Las Vegas city officials piloted a driverless shuttle bus in the downtown area. Currently, eight different manufactures are testing more than a dozen autonomous vehicles in the state.
Although most tourists travel by public transportation or by foot, most Nevadan commuters drive. In fact, in Clark and Reno counties, roughly 77 percent of people drive to work. Libertarian laws and the legalization of activities such as gambling and prostitution may make Nevada seem like a lenient, and perhaps, dangerous state for driving. Yet the state's highways are relatively orderly. According to Auto Insurance Center's
2nd Annual Study of America's Deadliest Counties and States
, Nevada is actually one of the safest states to drive in.
Putting on Miles
Despite the state's vastness and the long distances between its urban centers, Nevada drivers tend to drive less than the average American: The average
Nevadan logged almost 12,900
, about 600 miles fewer than the national average of almost 13,500.
Shorter commute time may contribute to this figure. According to the U.S. Census Bureau, the average commute time in the United States is 25.4 minutes, whereas the
average commute time in Nevada is 23.8 minutes
. (Compare that to a 32-minute commute in Maryland and a 16-minute commute in South Dakota.)
From the Strip to the Desert
Despite its big size, Nevada doesn't have many miles of highway, and outside its urban centers, many of those highways aren't heavily traveled. According to the Federal Highway Administration, it has roughly 85,000 miles of highway. Georgia and Illinois, which are both roughly half its size, have 250,000 miles of highway each.
Nevada is one of the few states that do not have a continuous interstate highway linking their major urban areas. I-80 cuts through the northern part of the state between California and Utah and I-15 in the south is a major thoroughfare between Las Vegas and Los Angeles. In between those two interstates, there are mostly federal and state highways with small towns along the way. U.S. Highway 50 from Fernley to Ely is known as the "Loneliest Road in America," a 287-mile stretch of road that features old mining towns and long distances devoid of human presence.
Down in Las Vegas, driving can be hectic, though not nearly as hectic as driving in Houston, Los Angeles, or New York. Streets can become very congested during the morning and evening rush hours. In addition, traffic can build up in tourist areas after 4 p.m. And, unsurprisingly, the Strip can be slow going as tourists "cruise" the street for hours on end. Those who want to escape the fray can drive over to a parallel street like Frank Sinatra Drive or Industrial Road.
In the winter months, Nevada's driving conditions can be harsh. Some mountain areas may be subject to black ice, road closures, and even avalanches. High elevations, including those around Lake Tahoe, can experience heavy snowfall, and large parts of I-80 can be closed due to wintry conditions.
Aside from the interstates and the roads near cities, most of the state's thoroughfares are rural and lightly-traveled. If you break down on a lonely desert highway in Nevada, it could be a few hours before you find assistance. But if you break down on an unpaved desolate road in the desert, it could be days.
Terry Speedy, a retired police officer and current driving instructor at Cantor's Driving School in Las Vegas, advises drivers to keep their gas tank at least half full and to carry water and emergency supplies if they're planning to drive a lot off the interstates. "You'll see troopers out on the road, even in the middle of nowhere. But most people in the summer carry a jug of water in their car just in case," says Speedy.
Filling the Tank
Nevada's gas prices are considerably higher than the national average. According to AAA, gas prices on the West Coast remain the highest in the country, with every state in the region making the top 10 list of most expensive markets. Nevada's gas prices are currently the sixth-highest, just after Hawaii, California, Washington, Alaska, and Oregon.
On some highways in Nevada, gas stations are positioned very far apart. For example, there are only two gas stations on the 162-mile drive between Ely, Nevada, and Delta, Utah. Drivers are encouraged to keep an eye on their gauges, especially in rural areas. And some
gas savings tips
can help you get some more mileage out of each tank of gas.
Unemployment Rate
A state's economy and unemployment rate can have a large impact on driving conditions and highway safety. Michael A. Morrisey, Ph.D., professor at the School of Public Health at Texas A&M, told
ScienceDaily.com
that an improving economy typically correlates with
more people on the highways and more fatalities
. "We estimate that each one percentage point decrease in the overall unemployment rate is associated with a 9 percent increase in national fatalities," explains Morrisey.
According to the Bureau of Labor Statistics,
the unemployment rate in Nevada was 5.1 percent
in December 2016. It has been on a steady decline from a high of nearly 13.7 percent in September 2010. Nevada's Department of Public Safety and Department of Transportation report that the state's traffic fatalities and serious injuries have risen since 2009.
Distracted Driving
With a high volume of tourists and so many sights to see,
distracted driving
can be a problem in the state. According to Speedy, it's not uncommon for people to slow down or brake on major highways. "When you drive to I-15 past the Strip, all you get is gawkers and people jamming on their brakes because they want to take photos," says Speedy.
Some forms of distracted driving – such as texting, using hand-held cell phones, or accessing the internet while driving – are illegal in the state of Nevada and breaking the law can result in a fine of up to $250. Nevada drivers may talk on the phone using a hands-free device, however.
Young Drivers Relatively Safe
Although
teenage drivers
are often portrayed as highway menaces, Nevada's teens are relative safe. A study by Carinsurance.com ranked Nevada as one of the
top 10 safe states for teen drivers
based on fatality rates, distracted driving, and teen drinking and driving rates. (For comparison, Massachusetts was ranked the safest state for teen drivers, whereas Montana was ranked the most dangerous.)
Drivers under the age of 18 who apply for a learner's permit or driver license must provide the DMV with proof that they are attending or have completed high school or a GED equivalency. To qualify for a driver license, they must complete a DMV-approved driver education course and 50 hours of behind-the-wheel driving practice. If a classroom course is not offered within a 30-mile radius of their home and they do not wish to complete an online course, they must complete 100 hours of behind-the-wheel driving practice.
To be issued a license, drivers must be at least 16 years old and have had a permit for a full year. For the first six months after obtaining a license, they cannot transport passengers under the age of 18, except for immediate family members. Even with a full license, drivers under the age of 18 cannot drive between 10 p.m. and 5 a.m., unless traveling to or from a scheduled event, such as school or work.
The State of Driving in Nevada
From the freeways of Las Vegas to the lonely highways of the central deserts, Nevada is for the most part a relatively easy place to drive. Embrace the roadways, keep an eye on the fuel gauge, and enjoy cruising through one of America's biggest states.