Driving in Pennsylvania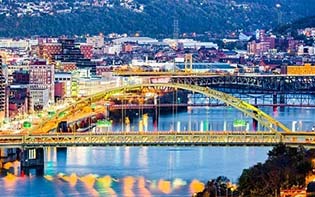 From aggressive drivers in Philadelphia to horse drawn buggies in Amish country, the driving experience in Pennsylvania is remarkably varied. The roads themselves run the gamut from mountain-hugging curves to open roads snaking through rolling hills to bustling city streets echoing with horns and screeching brakes. This diversity of vehicles, roads, and drivers can affect the types of driving attitudes, hazards, and challenges Pennsylvanians face whenever they get behind the wheel.
No matter what part of Pennsylvania you're in, understanding the specific issues facing drivers in your state can help you to make the best possible decisions – both on the road and off – to stay safe. Here's what you need to know before putting rubber to the road in the Keystone State:
Automobile Insurance in Pennsylvania
$15,000 for injury/death to one person per accident
$30,000 for injury/death to more than one person per accident
$5,000 for damage to property per accident
Most drivers will choose to purchase additional coverage, including collision coverage, comprehensive coverage, full tort coverage, and uninsured motorist coverage.
A minimum fine of $300
A three-month suspension of the driver's license and registration, plus the cost to reinstate them. Impoundment of the vehicle
Car Culture in the Keystone State
Pennsylvanians tend to drive practical cars. According to Kelly Whalen, who lived with her family in the suburbs of Philadelphia until 2016, "Most people drive SUVs and minivans or sedans. You don't see many older cars on the road because of winter weather and the salt that is put down in the winter."
Miles Driven in Pennsylvania
The difference in mileage between Pennsylvania drivers and the national average is relatively small, but it can help to reduce the costs of regular vehicle maintenance, such as getting your tires rotated, balanced, and checked, and on irregular maintenance and repair, such as replacing timing belts.
Hairpin Curves and City Gridlock
Although the topography of the Keystone State's rolling rural roads can add to the hazards of driving on them, one of the unique aspects of rural Pennsylvania involves learning to share the road with Amish buggies. According to Alison Futer Hutchinson, who grew up in Lancaster County, "you have to be extremely careful cresting a hill, because there is a good chance that there will be an Amish buggy or farm machinery in your path on the other side."
In addition, deer and other wildlife can cause problems for drivers in rural areas. Of course, wildlife does not confine itself to rural roads, even though drivers may not expect an animal appearance in a more urban area. Tweddale was once in a deer-related crash on a major highway in full daylight: "A deer leapt across six lanes of busy turnpike traffic, and eventually jumped headfirst into my windshield. This was during rush hour traffic, so I wasn't able to maneuver my car out of the deer's way."
The Cost of a Fill-Up
The Unemployment Rate