Driving in South Dakota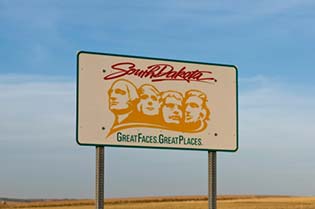 If you spend any time driving in South Dakota, you'll soon find wide open spaces and otherworldly landscapes. You'll also find cities that feel more like small towns, vast farms and ranches, and a diverse culture shaped by waves of immigration and by the Native American tribes who have been living on this land for many centuries and whose members still make up a significant portion of the state's population.
South Dakota, which is divided into distinct regions known as "East River," where most of the population is concentrated, and "West River," on the other side of Missouri, has 82,576 miles of roadway, stretching out over a total area of 78,116 square miles. With a population of under 900,000, many of those roads are lonely. But that doesn't stop South Dakotans from getting around, and for that – like most Americans – they depend heavily on their cars.
Tourists come for Crazy Horse and the Corn Palace; locals commute to work in Pierre and Sioux Falls and enjoy hunting and fishing in the state's abundant wilderness areas. But no matter where you're heading, here's what you need to know about driving in the Mount Rushmore State:
Auto Insurance in South Dakota
South Dakota requires all drivers to show proof of financial responsibility, most commonly done by purchasing auto insurance. The insurance coverage requirements are:
Bodily injury liability: $25,000 per person; $50,000 per accident
Property damage liability: $25,000 per accident
Uninsured/underinsured motorist coverage
Liability insurance covers you if you are responsible for a crash resulting in injuries or property damage to others, while underinsured/uninsured motorist insurance protects you if you get into an accident with a driver who doesn't have the required coverage.
Drivers may also choose to purchase additional types of insurance like collision coverage, medical payments coverage, or comprehensive coverage, which protects you in the event of weather damage, theft, or other forms of damage to your vehicle.
South Dakota's Car Culture
Throughout history, a number of iconic American travelers have passed through or settled in the region that is now called South Dakota. Two state highways, called 1804 and 1806, honor the Westward journey made by Lewis and Clark's Corp of Discovery and their return trip two years later. Laura Ingalls Wilder based the books "By the Shores of Silver Lake," "The Long Winter," "Little Town on the Prairie," and "These Happy Golden Years" on the time her nomadic family spent in the town of De Smet. In the late 1800s, homesteaders trekked to the plains to build new lives while the gold rush drew others hoping to strike it rich.
To this day, South Dakotans have many reasons to be on the move. And ever since Jas. F. Biglow of Flandreau registered the state's first "horseless carriage" in 1905, they tend to get around by car. As America's fifth least populous state and it's 16th largest by land area, South Dakota provides a lot of space to roam. And because it's one of just two states not served by Amtrak, and bus service is limited, a personal vehicle is pretty much a necessity.
Your Mileage May Vary
South Dakotans spend a lot of time behind the wheel, adding up to an average of
15,505 miles a year
, according to the U.S. Department of Transportation Federal Highway Administration. Neighboring North Dakota and Nebraska drivers racked up 15,725 and 15,128 miles, respectively, and the country as a whole averaged 14,425 miles.
The Bureau of Transportation Statistics reported that 79 percent of
South Dakota workers
drove alone to work, just over 10 percent carpooled, just 0.3 percent took public transportation, and 4.5 percent walked. South Dakotans can feel pride in their relatively short mean travel time to work: just 17.1 minutes, compared to 24.7 minutes nationally and 30.8 minutes in New York, the state with the longest commute time.
Urban vs. Rural Roads
In 2016, according to the National Highway Traffic Safety Administration, 103 of the 116
traffic fatalities in South Dakota
were the result of crashes on rural roads. The three counties with the highest number of fatal accidents were located in South Dakota's southwestern corner.
The reasons why crashes occur where and when they do are varied, as are the reasons why some accidents are fatal but not others. Rural areas can be more deadly because they take longer for emergency services to reach, and because drivers are more likely to collide with wildlife on rural roads. Speeding can also be a factor, and in South Dakota, where the limit on rural highways is 80 mph, drivers are already traveling at potentially dangerous speeds.
The Price of Gas
Gas prices can and do fluctuate weekly or even daily, but the average price of gas in South Dakota, as of April 2017, was
$2.57 a gallon
. That's nearly a dime cheaper than the national average of $2.66. South Dakota's gas prices have generally stayed fairly close to average prices nationwide for the past year. There are regional variations within the state, however;
GasBuddy
found slightly more affordable prices in Rapid City and Sioux Falls.
But given the distances South Dakotans have to travel, you might feel you're spending too much at the pump even when fuel is on the cheap side. Fortunately, there are some simple ways you can
save money on gas
just by switching up your daily driving habits.
The Unemployment Rate
The Bureau of Labor Statistics reported that
South Dakota's unemployment rate
in February 2018 was 3.4 percent. The Mount Rushmore State was tied for 14th lowest unemployment in the nation, along with Kansas and Tennessee. The nationwide unemployment rate was 4.1 percent.
The unemployment rate matters for drivers – whether they themselves are employed or not – because fluctuations in the employment numbers can mean more people are on the roads driving to more places. When unemployment is low, there are more commuters driving to and from work.
People also have more disposable income to spend on luxuries like new cars, dinners out, and vacations. For a popular tourist destination like South Dakota, that could mean an uptick in visitors to the state's attractions, including those from the region as well as visitors from further afield, who now have the funds for the gas and overnight accommodations longer road trips require.
Distracted Driving
According to the Centers for Disease Control and Prevention,
distracted driving-related crashes
kill about nine people and injure over 1,000 every day in the United States. Cellphones, pets, passengers, and even your car radio dial can take your attention away from the road, but it's easy to
prevent distracted driving
by making some common sense choices and waiting to text or eat until you've stopped the car.
In South Dakota, cities led the way on banning texting while driving; Sioux Falls, Brookings, Watertown and Huron passed laws outlawing the behavior before state government followed suit, implementing a texting and driving ban in 2014. The fine for being caught texting behind the wheel is $100. Drivers should be aware that although texting while driving remains a secondary offense in the statewide law, it may be a primary offense in some cities.
Drivers under 18 holding an instruction permit or restricted minor's permit are prohibited from using any kind of wireless device while driving, including handheld and hands-free cellphones.
Teen Drivers in South Dakota
In South Dakota, you can apply for an instruction permit at the age of 14. To obtain an instruction permit, you must pass a knowledge test or have completed an approved driver education course.
After you have held an instruction permit for 180 days (or 90 days if you've completed the driver education classes), you can apply for a Restricted Minor's Permit. To receive this restricted license, you must pass a driving test or have completed an approved driving course. Teen drivers with a Restricted Minor's Permit must drive with a licensed adult from 6 a.m. to 10 p.m., and a legal guardian from 10 p.m. to 6 a.m. Parents can also remotely
monitor their teen's driving
when they're legally ready to drive without supervision.
To obtain a full driver's license, you must be at least 16 years old. If you are 16 and have fulfilled the requirements of your instruction permit, you may skip the minor's permit and apply for a full operator's license. If you do not, your restricted minor's permit will automatically count as a full driver's license when you turn 18. For further details about the application and testing process, contact the
South Dakota Department of Public Safety
.
The State of Driving in South Dakota
Driving in South Dakota can be unpredictable – snowstorms can close roads unexpectedly, and depending on where you go, you might have to stop to allow a family of bison to cross the street. But if you like historic sites and unspoiled landscapes, it's one of the most interesting states to explore. And because you need a vehicle to get around, knowing the local rules and regulations will help you stay safe on the roads of the Mount Rushmore State.