Driving in Tennessee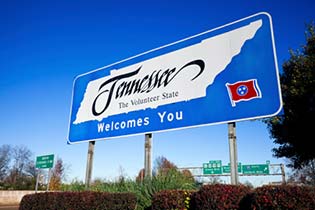 Tennessee is home to winding rural roads, gorgeous rolling hills, and of course, incredible music. All of that can potentially add up to a wonderful driving experience, as you navigate your car through scenic hills and valleys while Dolly Parton, Elvis Presley, or B.B. King croon from the stereo system.
Unfortunately, not all driving in the Volunteer State is quite that idyllic. Not only can you expect to deal with
serious traffic congestion
in the major cities, but drivers in Tennessee were
ranked the 8th worst in the nation
in 2016 based on data compiled from the Insurance Research Council, Federal Highway Administration, and National Highway Traffic Safety Administration.
Before you get behind the wheel in Tennessee, it pays to understand just what kinds of unique hazards and challenges you'll meet on the road. Here's what you need to know to stay safe behind the wheel – and happily singing along to your favorites on the Grand Ole Opry radio show.
Automobile Insurance in Tennessee
$25,000 for injury/death to one person per accident
$50,000 for injury/death to more than one person per accident
$15,000 for damage to property per accident
Though these are the minimum requirements necessary to comply with the law, many Tennesseans will choose to purchase additional coverage, including collision coverage and/or comprehensive coverage.
In addition, Tennessee has a high number of uninsured motorists – a startling
20 percent of drivers
do not have insurance, despite efforts on the part of the legislature to
enforce the insurance requirements
. For that reason, many Tennessee drivers may also want to carry uninsured motorist coverage, just in case.
See and Be Seen: Tennessee Car Culture
According to Scheroi Taylor, who grew up in Memphis and now lives in Nashville, "Cars are essential here since a lot of jobs are not in the city center." But Tennesseans aren't content to simply treat their cars as modes of transportation and are likely to consider their vehicles as a type of rolling status symbol. Taylor writes "People get their cars painted, fresh tires, and a boomin' sound system for a 1987 Cutlass."
Jeff Peacock, who works in the Memphis area, agrees: "People try to impress by driving a Mercedes – but you can see lots of these kinds of high-end cars in the Buy Here/Pay Here Used Car Lot." For the average driver in Tennessee, having a nice car – or at least a nicely painted and decked out car – offers a feeling of empowerment above and beyond the practical aspect of having your own transportation.
The love of eye-catching cars extends to the numerous car museums throughout the state. The
Lane Motor Museum
just outside Nashville features over 400 quirky and unique vehicles from obscure automakers. Once a year, the Lane Museum holds a
Rally for the Lane
, when drivers pay to take cars from the collection on an all-day treasure hunt along winding roads through the countryside outside of Nashville.
In addition to the Lane Museum, Tennessee is home to several other institutions that celebrate the beauty of cars, from the
Hollywood Star Cars Museum
, where you can see the Batmobile and the Beverly Hillbillies jalopy, to the
Floyd Garrett Muscle Car Museum
, where you can see one of the largest collections of American-made cars in the nation.
Miles Driven in Tennessee
Since much of Tennessee is car-dependent, it should come as no surprise that drivers in the Volunteer State put more miles on their cars than the national average. According to the U.S. Department of Transportation Federal Highway Administration (FHWA), the average American driver logged
13,476 miles per year
as of 2014, the most recent year for which the data has been compiled.
During that same year, licensed drivers in Tennessee racked up nearly 2000 miles more, averaging 15,462 miles for the year. Those additional miles on the road don't just increase the number of hours you spend behind the wheel – they can also increase the cost of regular and irregular vehicle maintenance, which includes everything from oil changes to brake pad replacements.
The financial blog My Money Design calculates that the cost of such maintenance is approximately
$0.26/mile
. Tennesseans who drive the average of 15,642 miles per year can expect to pay about $4,067 in maintenance costs each year. That's more than $500 above what the average U.S. driver will pay, since 13,476 miles per year will only generate approximately $3,504 in maintenance costs.
The good news for drivers is that the roads in Tennessee are in generally good condition, which can help to keep those maintenance costs lower. The Washington Post reported in 2015 that
a mere 11 percent of roads in Tennessee
are in poor condition, which means "they have so many major ruts, cracks and potholes that they can't simply be resurfaced – they need to be completely rebuilt." While it is certainly less than ideal that more than 1/10 of the roads have such poor surfaces, the rest of the nation is faring much worse, and Tennessee is actually sixth in the nation for decent roadways. Tennessee also boasts the lowest rate of extra annual vehicle operation and maintenance costs due to bad roads, at $278 per year.
Rural vs. Urban Driving
Where you drive can also affect your likelihood of getting into a wreck. The
Insurance Institute for Highway Safety
has found that the rate of car crash deaths per 100 million miles traveled is 2.6 times higher in rural areas as compared to urban areas – but that hardly means that urban driving is necessarily safer, especially in Tennessee. The fatality statistics for Tennessee bear out the need for caution wherever you drive:
45 percent of car crash-related deaths
occurred in occurred in rural areas and 55 percent occurred in urban areas in 2016, the most recent year for which we have the number. However, since only
39.3 percent of vehicle miles driven
occur on rural roads in Tennessee, it is clear that rural driving offers some serious hazards.
The dangers of driving in Tennessee are partially attributable to the common driving behaviors on the road. According to Taylor, driving in Tennessee "is oddly relaxed and pressured at the same time. You have your really aggressive drivers and you have the chill Southern-style drivers. When I first moved (to Nashville), I thought I was going to die if I didn't drive faster. If it weren't for laws, I think Tennessee would be full of wrecks!"
Peacock has also noticed some troubling driving trends, as well: "Even though it's now against the law in Tennessee, drivers seem to get a perverse pleasure out of driving slow in the far left hand lane. There seems to be an overall lack of knowledge of basic traffic rules."
Filling Up the Tank in Tennessee
As of April 2018, the national average cost of
a gallon of regular unleaded gas was $2.661
. The price of gas in Tennessee, however, was slightly lower at an average of $2.457, and drivers have enjoyed a slightly-below-national-average price point throughout 2018. Of course, with the number of miles the average Tennessean drives per year, the slightly lower price of gas should not stop you from finding ways to
save money at the pump
.
However, relatively low gas prices do encourage more people to drive. When drivers can more easily afford a fill up, they are more likely to make more trips and more non-essential trips in their cars. Unfortunately, the more trips people make, the more drivers there are on the road, which can lead to more accidents.
Unemployment in the Volunteer State
In addition, higher levels of employment mean more drivers on the road in general, since employed workers have money to spend on discretionary purchases, which often includes dining out, night life, and sporting events. Though that is good for the community, it's important to remember that more people on the road increases the likelihood of accidents.
Distracted Driving
Teenage Drivers
As of age 15, teens in Tennessee can apply for a learner's permit. Teens must pass a written driver's knowledge test and a vision test to receive a learner's permit, and the permit allows them to drive with a licensed adult driver supervising and sitting in the front seat. Teens must complete 50 hours of practice driving and hold their learner's permit for at least 180 days before applying for an intermediate license.
Once teens have reached age 16 and have held the learner's permit the requisite 180 days, they may apply for the intermediate restricted license. To receive it, they must pass a driving test, a vision test, and provide proof of practice driving time. On the intermediate license, teens may not drive between 11 p.m. and 6 a.m., nor may they drive with more than one passenger, unless a licensed adult driver accompanies them.
At age 17, teens are eligible for the intermediate unrestricted license if they have held the restricted form for at least a year. This license places no limitations on driving at night or on number of passengers.
As of age 18, or on graduation from high school, whichever is sooner, teens may receive a full unrestricted license.
The State of Driving in Tennessee
From lovely roads winding through rolling countryside to the bustling streets that carry you through major cities, driving in Tennessee offers very different driving experiences and scenery. But it's also important for drivers to remember that there are specific challenges and hazards they will face in the Volunteer State. Understanding the state of driving in Tennessee can help you make the best and safest decisions on the road.