Driving in Texas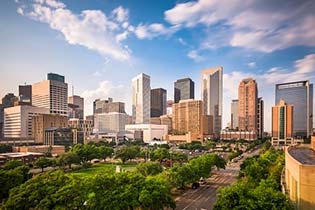 Everything really is bigger in Texas – including the car culture. Just consider the wide open spaces of a large and geographically diverse state, where fiercely independent Texans preside behind the wheels of heavyweight cars and trucks. Driving in Texas is not only a necessity for navigating from urban to suburban to rural areas, but it is also a symbol of the sense of freedom that Texans love.
But Texan drivers need to remember that although their cars allow them to come and go as they please, they are also hazards. In order to stay safe and make the best possible driving decisions, Texans need to understand the specific driving challenges in the Lone Star State. Here is what you should know about driving in Texas before you get behind the wheel:
Automobile Insurance in Texas
$30,000 per accident if someone is hurt or killed
$60,000 per accident if more than one person is hurt or killed
$25,000 per accident for property damage
This basic coverage is often referred to as 30/60/25 coverage. Although it is the minimum required by Texas state law, most drivers choose to purchase additional coverage, including collision coverage, comprehensive coverage, and uninsured motorist coverage.
To combat the problem of uninsured vehicles – which make up
20 percent of the vehicles
on the road in Texas – the Lone Star State requires proof of insurance for annual vehicle inspections, vehicle registrations, and some driver license transactions. In addition, the state created a vehicle insurance verification database known as TexasSure, which allows law enforcement and tax-assessors to immediately verify insurance by license plate and vehicle identification number (VIN).
Texas's Car Culture
There is a long history of Texans modifying their cars, from mounting longhorns on car grilles to the annual
Houston Art Car Parade
, which celebrates the unique and even bizarre ways in which a vehicle can become a rolling work of art.
Houston drivers are likely familiar with the hometown style of
modified cars known as slabs
. Slabs are large, low-riding, candy-colored American luxury cars (particularly Buicks and Cadillacs) from the 1970s and 1980s equipped with "swangas" (30-spoke wire rims that protrude from the car), a fifth wheel also sporting a swanga, and a booming stereo system.
These modified vehicles have their roots in Houston's 1980s African-American culture. According to Houston native
Langston Collin Wilkins
, who studied slabs as part of the research for his doctorate in folklore and ethnomusicology, "[slabs] are not driven by drug dealers as some observers might assume ... but rather by regular working-class African-Americans who want to express their creativity."
Of course, you're less likely to see a slab on the road than a pickup truck, considering the fact that Texans buy
1 out of every 6 pickup trucks sold nationally
. According to Philip Taylor of Frisco, "Texans are fiercely independent and need their own space and their own transportation so they're free to come and go as they please." Since having a pickup truck provides you with the freedom to both travel anywhere you need to go and haul anything you need to move, it represents the kind of independent lifestyle that many Texans embrace.
A Big State Means More Mileage on Your Vehicle
Texans are justly proud of the size of their state – after all, it is larger than several countries. But there is a downside to all of that land. Texans put more miles on their cars than the average American. According to the Federal Highway Administration,
the average American drove 13,476 miles in 2014
, the most recent year for which data are available. The average Texan, however, drove 16,347 miles in 2014 – nearly 3,000 more miles.​
Taylor attributes this additional driving to a couple of factors: "Texas has an unlimited supply of land, which means there's no suburban sprawl like the Texas kind. It's hard to take care of all you need within walking or biking distance. So you're popping in the car just to take care of little errands. But there's also this feeling that there's so much to explore in Texas because the state is big and geographically diverse. Because of that, inner state road trip culture is a big thing."
Texans need to remember that the additional driving will increase the wear-and-tear on their vehicles and plan ahead for both the regular maintenance and irregular repairs they will need more of due to the increased time they spend behind the wheel. The financial blog My Money Design calculates that the cost of maintenance and repairs is approximately
$0.26 per mile
, so Texans driving the average of 16,347 miles per year should plan for about $4,250 per year in regular maintenance costs.
Superhighways and Lonely Rural Roads
That's not to suggest that urban roads in Texas are free from potential car accidents. Texas is home to the 26-lane Katy Freeway, billed as
the world's widest freeway
. Though the Katy Freeway is the largest, there are many other superhighways across the state – and they can be downright frightening to drive on. According to California native and recent Texas transplant Briana Melissa Ford, "The highways are a scary experience for any out-of-towners because merging is nonexistent. It's either almost hit someone, or thank God no one was coming in that lane."
Even urban roads within cities, which tend to have lower speed limits, can be hazardous. In 2016,
814 people were killed in crashes
that either occurred at an intersection or were related to an intersection.
The Price of Gas
One of the many reasons why Texans opt for their big cars is because fill-ups are cheaper in the Lone Star State than many other places in the country. As of April 9, 2018, the national average price for
a gallon of regular unleaded was $2.661
, whereas the Texas average was $2.423. The range of gas prices across the state is relatively stable as well. The highest price for a gallon of regular is found in Dallas, where it costs $2.419, and the lowest priced in San Antonio, where it costs $2.317.
The Unemployment Rate
Though they probably seem unrelated, the employment rate of a state affects its driving rate. As the employment rate increases, so does the number of commuters. As of March 2018, the
national unemployment rate was 4.1 percent
– slightly higher than the Texas unemployment rate of 4 percent. Texans spent an average of
25.9 minutes commuting to work
each way – almost exclusively by car. Approximately less than 2.5 percent of Texans utilizes public transportation for commuting purposes. Much of the population growth has been in suburban areas and public transportation is not readily available there.
Of course, a higher employment rate encourages more driving than just commuting to and from work. When the employment rate is high, signaling a healthy economy, more people have more money to spend on dinners out, sporting events, and road trips – all of which lead to more time behind the wheel.
Distracted Driving
The term
distracted driving
describes any situation in which a driver is paying close attention to something other than the road (e.g., a cell phone). This is serious problem nationwide, and in Texas alone there were 476 deaths due to distracted driving in 2015. Though these numbers are disheartening, they do represent a one percent decrease in distracted driving fatalities over the previous year, which suggests that the Texas Department of Transportation's
Talk. Text. Crash. Distracted Driving campaign
is having the intended effect of educating drivers on the hazards of distracted driving.
In addition to the media campaign against distracted driving, Texas has also instituted
a ban on cell phone usage
for young drivers. Other than for emergencies, drivers under the age of 18 may not use handheld or hands-free cell phones for talking or texting.
Teen Drivers in Texas
The cell phone ban for
teen drivers
in Texas wasn't instituted without cause. Teens are among the most dangerous drivers on the road, both because they are novices and they are much more likely to engage in distracted driving behaviors. The
AAA Foundation for Traffic Safety
found that "distraction was a factor in nearly 6 out of 10 moderate-to-severe teen crashes."
To help adolescents transition from passenger to driver, Texas has implemented a
graduated driver licensing program
. At age 15, teens may apply for a learner license. To obtain the learner license, teens must complete a driver education program and verify enrollment and attendance at school (or provide a high school diploma or GED certificate). When driving with this license, teens must be accompanied by a licensed adult, age 21 or older, who sits in the front seat as the teen drives.
At age 16, teens can apply for a provisional license. In addition to holding the learner license for at least six months, teens must complete classroom and behind-the-wheel driver education and the
Impact Texas Teen Drivers
course, as well as pass a driving test to qualify for this next phase. Teens with a provisional license may not drive with more than one passenger under the age of 21 who is not a family member, and they may not drive between midnight and 5 a.m., unless they are working, participating in a school activity, or there is an emergency.
Once teens reach age 18, they are eligible to apply for a non-commercial driver license.
Note that all drivers under the age of 25 must complete a driver education course and the Impact Texas Drivers course. Texas recognizes that rookie drivers under the age of 25 can use the extra education to help them drive safely.
The State of Driving in Texas
Settling behind the wheel of your car, truck, or slab in Texas is partially about asserting your independence. But with that independence comes the responsibility to be a safe driver. Understanding the state of driving in Texas can help you make the safest and best driving decisions while you enjoy the freedom of the open road.