Driving in Vermont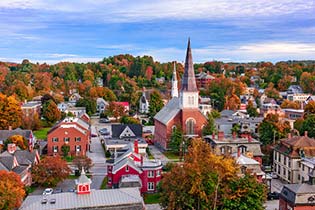 Unless you get stuck behind a slow-driving flatlander who is gawking at the gorgeous autumn foliage, the covered bridges, or the serene depths of Lake Champlain in the hopes of seeing the mythical lake monster, Champ, it's unlikely that you will encounter much traffic on the rolling roads of Vermont. The Green Mountain state is the second-least populous state in the nation (just behind Wyoming), which translates to fewer cars on the road.
But although the less-congested roads winding throughout Vermont boast breathtaking natural scenery – with nary a billboard to compromise your view of the beauties of nature – driving in Vermont is not always an idyllic experience. Between the realities of New England's sometimes-harsh weather, as well as the unique challenges facing drivers on Vermont's roads, it is important to understand just what to expect before you get behind the wheel. Here's what you need to know about the state of driving in Vermont:
Vermont Automobile Insurance
$25,000 for injury/death to one person per accident
$50,000 for injury/death to more than one person per accident
$10,000 for damage to property per accident
In addition to these minimums, Vermont also requires drivers to carry uninsured/underinsured motorist coverage with minimum limits of $50,000 for one person and $100,000 for two or more people for bodily injury coverage. Approximately
6.8 percent of Vermont motorists are uninsured
, so many drivers will choose to purchase more than the minimum coverage to make sure they can financially handle a car accident with an uninsured driver.
Environmentalism and Vermont's Car Culture
Vermont is known for its commitment to environmentalism, which extends to how citizens view their cars. According to Ohio native Megan McBride, who attended graduate school in Brattleboro, people thought "cars should either be capable of driving up steep unplowed roads, or they must be eco-friendly. It was a fairly practical way to view cars."
Of course, the pragmatism of owning a good snow car is not just about the harshness of Vermont's winter weather. It's also related to the state's commitment to environmentalism. For instance, since she grew up in snowy Cleveland, Ohio, McBride found Vermont's winter weather similar to that of her hometown. But in Vermont, they didn't treat the snowy roads the same way Ohio did: "For
environmental reasons
, they limit road salt and don't plow as much, either." The expectation in Vermont is that drivers will adjust to snowy conditions while the state makes roads as safe as possible without affecting the ecosystem.
The concern about the environmental impact of driving extends to buying eco-friendly vehicles and converting traditional vehicles into more environmentally responsible cars. Not only does the state
offer incentives
to encourage everything from biodiesel to electric vehicles, but there is also a thriving
industry of mechanics
that will help car owners convert their vehicles to biodiesel and
other initiatives
that help align drivers with their environmental goals.
Rural vs. Urban Driving
There is no getting around the fact that Vermont is a rural state. It boasts
the smallest state capital
in the country by population, but even the largest city in the state, Burlington, has fewer than 39,000 residents. This makes it perfectly understandable why
73.9 percent of the vehicle miles driven
in Vermont are in rural areas.
Unfortunately, the higher frequency of rural driving does affect the safety of Vermont's drivers. According to the Insurance Institute for Highway Safety, rural roads are more dangerous than urban roads – car crash deaths per 100 million miles traveled is 2.6 times higher in rural areas compared to urban areas. This may seem counterintuitive, since city driving, with its increased congestion, increases the opportunity for car accidents. However, accidents on urban roads often happen at lower speeds, and take place closer to emergency help, making them more survivable than accidents on rural roads.
Miles Driven in Vermont
While the number of miles you put on your car in any given year may seem like a mildly interesting data point, it is an important part of understanding the true costs of car ownership. That's because the more miles you put on your car, the more you will need to spend on both regular and irregular vehicle maintenance, such as oil changes, tire rotation, and brake pad replacement.
The Cost of a Fill-Up
Unemployment and Driving
There are a number of factors that can affect how many drivers are on the road – including the unemployment rate of a state. While the rate of employment and the number of cars on the road might seem unrelated, the connection becomes clear if you think about what the level of employment of a state means: employed workers are individuals who need to get to and from their place of employment. In addition, the higher employment indicates a stronger economy, which means people are enjoying more disposable income – and therefore driving more to go out to dinner, shop, go on vacation, or attend sporting or cultural events.