Driving in Virginia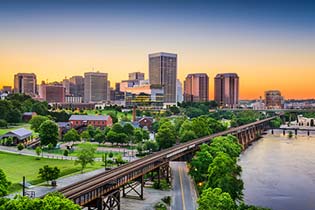 A drive through Virginia offers a trip through the American experience – from a traffic snarled weekday commute to the nation's bustling capital to a tour of historical cemeteries to a slow Sunday drive down the scenic Blue Ridge Parkway, dubbed "America's Favorite Drive."
The driving experience in Virginia varies widely, depending on your route and your purpose for traveling – whether you're a federal employee in a hurry to get to work in Washington, D.C., a resident on a summer road trip with the kids or a tourist winding your way through the state's many historical sites.
Whatever journey you're on, before you slide behind the wheel, take a look at this roadmap to driving in Virginia:
Auto Insurance in Virginia
Each state imposes its own requirements for auto insurance a driver must carry on their vehicle. State of
Virginia auto insurance regulations
require as minimum insurance coverage:
Bodily injury/death of one person: $25,000 per accident
Bodily injury/death of two or more people: $50,000 per accident
Property damage: $20,000 per accident
Drivers in Virginia must register uninsured vehicles, paying a fee of $500 per vehicle per year and accepting personal liability for any damages.
A driver who fails to pay this fee and gets caught with an uninsured vehicle faces suspension of their driver's license and vehicle registration privileges. They must pay a $500 fine, along with a $145 license and privilege reinstatement fee. And they are required to file proof of insurance with the state for the next three years.
Virginia's Car Culture
Because Virginia borders our nation's capital, the state's car culture is marked by a heavy emphasis on getting to and from work. In fact, more than 226,000 Virginians work in Washington, D.C., according to a
report on commuting from the U.S. Census Bureau
.
Frequent traffic jams in that area mean northern
Virginians spend a lot of time in the car
, even if their commute is short in terms of miles. This contributes to a high
average commute time of 28 minutes
in Virginia, putting the state in seventh in place in the nation. Overall, about 10 percent of Virginia workers drive more than 60 minutes each way to and from their jobs.
A high number of employees driving solo, rather than carpooling or taking public transportation, contributes to congestion on Virginia roads. In fact, about two-thirds of Virginia residents (67 percent) commute to work by driving alone, according to a
2016 survey of area residents who commute
, while only 6 percent carpool with at least one other person.
However, Virginia commuters who live closer to D.C., including residents of the city of Alexandria and Arlington County, are more likely to take alternative modes of transportation to work, and only 41 percent of those commuters drive alone.
Virginia Railway Express offers train service
daily from Northern Virginia to downtown Washington, D.C., where workers can travel via the D.C. Metro system.
Getting to and from work in Virginia can be a stressful experience. "It's pretty crazy, and drivers are aggressive," says Amanda Ponzar, who has lived and worked in the state for 10 years. Traffic often slows to a halt as drivers funnel onto the Capital Beltway, and it can take 30 to 40 minutes to go a few miles, in Ponzar's experience. She has found that traffic often backs up for no apparent reason, or because of poor road construction, or a car illegally parked in a lane reserved for driving from 4 to 6 p.m. She adds: "I'll admit to doing my share of honking the horn."
When they aren't battling traffic, drivers can take a deep breath and enjoy the scenery. "I love all the trees, whether on the way to Mount Vernon or down to Williamsburg," Ponzar states. "Virginia is a beautiful state."
Urban vs. Rural Roads
Across the United States,
driving on rural roads
is more dangerous than on urban thoroughfares. Travelers on rural roads are more likely to get into high-speed crashes, which result in more traffic fatalities.
"It is really difficult to pass a car or tractor because the country roads are so very curvy," observes Doc Findley, who runs a B&B with his wife outside Charlottesville. "There are just too many blind curves to pass anyone."
In his view, it's the price drivers pay for the beautiful scenery. He and his family compensate by allowing extra time when they travel Virginia's rural roads. "We know that we need to leave 10 to 15 minutes early, just in case we get stuck behind a tractor, a bus, a moped, or even the occasional horse on the road going two miles per hour," he says.
Miles Driven in Virginia
Despite the high numbers of commuters and the many hours workers spend getting to and from their jobs each week, Virginia drivers log fewer miles behind the wheel than the U.S. average.
Counting the Cost of Gas
That inexpensive fuel means it's more affordable for Virginians and tourists to take to the roads of the Old Dominion State, visiting top Virginia attractions, from the Arlington National Cemetery to Thomas Jefferson's Monticello to the Shenandoah National Park in the Blue Ridge Mountains.
However, the increase wasn't as sharp in Virginia, which saw a seven percent increase in fatalities on its roads during that timeframe.
Joblessness in Virginia
Like the price of gas, employment affects driving patterns. When people have jobs, they stay home less and get behind the wheel more to head to work, to entertainment venues and on vacations.
Efforts to Curb Distracted Driving
In Virginia, distracted driving contributes to an astonishing 80 percent of auto accidents. The state has taken measures to combat this deadly problem. Virginia law counts distracted driving as a primary offense, meaning police can pull you over solely because they suspect you're texting, emailing or surfing the internet while driving.
Allowing the use of handheld phones, which is banned in both Maryland and Washington, D.C., contributes to distracted driving in the state, according to Sara La Fountain, a food blogger who moved to Virginia from Maryland two years ago and who participated in a national campaign to urge drivers to put down their phones. "It really is shocking how different the driving mentality is from Maryland," she says. "Almost every car I drive next to has a driver on their phone, or with their phone in their hand, or possibly scrolling through Facebook, or even playing Candy Crush."
She adds: "This phone behavior leads to much more dangerous driving, more accidents, and fender benders. It's out of control."
Teen Driving Laws
Inexperience increases risks when teens get behind the wheel, and that's why states put laws in place to help new drivers gain experience while slowly earning more privileges.
Virginia imposes several restrictions on licensed teen drivers:
Late Night Curfew – Drivers under 18 cannot drive between midnight and 4 a.m., with some exceptions, such as a trip to or from work or a school or church function, or in an emergency.
Restriction on Number of Passengers – In most cases, even licensed drivers under 18 may not carry more than one passenger under 21 unless a parent with a valid driver's license is sitting in the front passenger seat. A young driver who has had a driver's license for one year may carry up to three passengers under 21 in some cases, such as when traveling to and from a school event or when a licensed driver 21 or older sits in the front passenger seat. Research has shown each additional young passenger increases the distracted driving crash risk for teens. A driver who only has a learner's permit may not carry more than one passenger under 18, though the rule doesn't apply if the passengers are family members.
A young driver who violates these rules can face suspension of their driver's license. "Virginia's driving restrictions are not meant to penalize teen drivers, but to help them stay safe while they gain valuable driving experience," the Virginia DMV states.
The State of Driving in Virginia
When you're driving in Virginia, whether you're taking the beltway or a winding rural road, patience is key, says Findley, who moved to Virginia from the relatively flat South Carolina.
Taking extra time to reach your destination will allow you to appreciate the state's natural beauty – including, according to Findley, "the rolling, pastoral expanses of land and the breathtaking views."
Now that you know the rules of the road in Virginia, it's time to buckle up and enjoy exploring this great American state.