Driving in West Virginia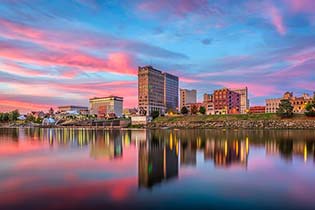 The West Virginia Division of Highways maintains
38,770 miles of public roads
, spread out across more than 24,000 square miles of land. These roads span rivers large and small, traverse dense forests, and are constantly winding up and down mountains. This quirky-shaped state is located entirely within the Appalachian Mountain range. So wherever you're going, you're likely to have a dramatic view on the way. And you probably need a car to get there.
But whether you're commuting to Charleston on the highway, or setting out on a leisurely drive along the Highland Scenic Highway, here's what you need to know before getting behind the wheel in the Mountain State:
Auto Insurance in West Virginia
West Virginia requires auto insurance for all drivers. The minimum amounts of coverage you must purchase are as follows:
Bodily Injury Liability Insurance: $25,000 per person and $50,000 per accident
Property Damage Liability Insurance: $25,000
Uninsured Motorist Coverage: $25,000 bodily injury per person, $50,000 bodily injury per accident, and $25,000 property damage
Drivers may also choose to buy additional coverage, as these minimums do not cover all potential situations (like deer collisions), and, as the
West Virginia Offices of the Insurance Commissioner
notes, may not be sufficient to protect you should you be involved in a crash.
West Virginia's Car Culture
Millions of people around the world who know nothing else about West Virginia know one thing, thanks to John Denver: the state is full of country roads. Those roads, and the rugged mountains they climb, make driving in West Virginia a beautiful – and sometimes slightly nerve-wracking – experience.
West Virginia has some transportation options – 32 of the state's 55 counties are served by various
public transit
agencies, and
Amtrak
trains stop in several cities. But for the most part, when the state's
1.8 million residents
want to get from one of the Mountain State's
3,100 towns
to another, they have to rely on their cars.
And there are lots of worthy destinations to drive to in this state, which is particularly proud of its many outdoor opportunities and wilderness settings that are stunning in any weather, from
whitewater rafting
in summer to
spotting foliage
in the fall to
skiing
in the region's snowy winters. Perhaps it was those frigid winter driving conditions that led to the
invention of antifreeze
, in West Virginia's "Chemical Valley."
And many of those miles were covered on the way to and from the office. The
Bureau of Transportation Statistics
found that over 80 percent of West Virginia commuters drove to work alone, and over 10 percent carpooled. Less than 1 percent took public transportation. The mean travel time to work was
25 minutes
, meaning the average West Virginian can spend almost an hour in the car every day just getting to work and back.
Urban vs. Rural Roads
The National Highway Traffic Safety Administration (NHTSA) found that of the 269
traffic fatalities in West Virginia
in 2016, 63 percent were the result of crashes in rural areas and 37 percent followed crashes in urban locations. In the U.S. as a whole, 50 percent of traffic fatalities were caused by rural crashes and 50 percent by those on urban areas, with the remaining 3 percent due to accidents in unknown locations.
Many factors contribute to making rural or urban crashes more dangerous in any given location. For example, remote areas can take longer for first responders to access, and drivers on backroads may be more likely to encounter wildlife on their route. In West Virginia, a largely rural state,
deer
are a particular hazard for motorists. But no matter what type of road you're on, the NHTSA data shows, it's always dangerous to speed, to drive under the influence of alcohol or drugs, or to refuse to wear a seatbelt.
In early April 2018, the average gas price in West Virginia was $2.62 a gallon, only slightly lower than the
nationwide average gas price
of $2.66. Fueling up in the eastern panhandle and Potomac Highlands was a bit costlier, with prices closer to $2.73 per gallon, while more affordable gas could be found in scattered counties in the New River-Greenbriar Valley area and the Mid-Ohio valley.
Regardless of where you live or whether the price of gas is up or down at the moment, it can all seem too expensive when you need to fill your tank often just to do your routine driving. Keep in mind that switching up your driving habits can help you increase the
fuel efficiency
of your vehicle. Just making a few simple changes will help keep costs down.
In February 2018, according to the
Bureau of Labor Statistics
, West Virginia's unemployment rate was 5.4 percent. The national unemployment rate for the same month was 4.1 percent. Only three other states had higher unemployment rates. However, some regions of the Mountain State had lower unemployment rates than others. The Winchester VA-WV metropolitan area, for example, had a 3.4 percent unemployment rate in February 2018 while the Steubenville-Weirton OH-WV metro area had an unemployment rate of 7 percent.
Rates of employment can affect drivers in multiple ways. A lower unemployment rate leads to more workers commuting, which means heavier traffic, and more money in the pockets of people who can now purchase newer cars and more tanks of gas. West Virginia's unemployment rate has generally been falling since 2011, and if it continues to do so, residents might notice added cars on the roads, as more people decide to take a day trip to
Harpers Ferry
, explore the
Monongahela National Forest
, or go shopping in
downtown Parkersburg
.
It wasn't long ago that no one thought twice of talking on their cellphone while driving. These days,
distracted driving
– which includes interacting with passengers in an unsafe manner or any other behavior that takes your eyes and attention away from the road – is recognized as a serious problem. According to the
Centers for Disease Control and Prevention
, approximately 9 people are killed and over 1,000 are injured every day in the United States in crashes involving a distracted driver.
In West Virginia,
using a hand-held cellphone while driving
became a
primary offence
in 2013. In addition to this ban on texting or talking on a hand-held phone for all drivers, teens with learner's permits or intermediate licenses are prohibited from using any wireless communication device while driving. Penalties include fines ranging from $100 to $300 and points against your driver's license.
Teen Drivers in West Virginia
West Virginia's
Division of Motor Vehicles
has a graduated driver's license program for teens under 18. To receive an instruction permit, you must be at least 15 years old and pass a knowledge test. Restrictions on driving under this permit include being accompanied by a licensed driver who is at least 21, staying off the road before 5:00 a.m. and after 10 p.m., and not using a cell phone while behind the wheel. After six months, provided you are 16 years old and have completed the required 50 hours of driving practice, you may take a road test to earn an intermediate driver's license. This license also has restrictions on passengers and cell phone use, among others, but it does allow teens to drive alone between 5 a.m. and 10 p.m., and at other times for reasons such as attending work, school, or religious services. After one year, and having reached the age of 17, you will be eligible for a full driver's license.
If you are 18 or over when you begin driving, you may apply for a regular instruction permit. This is valid for 90 days and allows you to drive when accompanied by a licensed driver, age 21 or older, in the front passenger seat.
If you are the parent of a new driver, you can remotely
monitor your teen's behavior
using a tracking device or even, in some newer model cars, built-in technology. With this, you can limit some of what your teenager might get up to on the road. You can also control the volume on their radio and send their incoming calls straight to voicemail.
The State of Driving in West Virginia
Anyone who drives in West Virginia is spoiled for choice when it comes to natural wonders, historic towns, and scenic routes. But West Virginia drivers also have to contend with wildlife, potentially challenging weather conditions, and rugged terrain. Along the way, being aware of local laws and regulations will help keep you safe on the country roads, the Interstates, and the city streets of the Mountain State.