Driving in Maine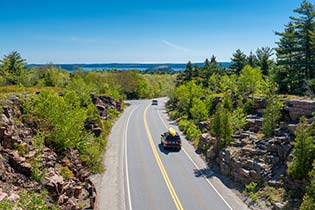 There's nothing quite like a long drive in Maine, where Down East means up north, lupine and lobster shacks decorate the roadside, and yellow warning signs denote moose crossings. The state has 23,450 miles of public roads, and they stretch from the rugged coastline to dense inland forests and storied mountains. A good deal of this land is uninhabited, or nearly so. While there are a few lively cities and numerous walkable small towns here, if you want to get to most places in Maine, you have to have a car.
But while a Maine road trip is a highlight for tourists, for residents, driving long distances on the state's scenic roads is just a fact of life. If you live and work in Augusta or Allagash, the North Woods or the Western Mountains, here's what you need to know about owning and driving a vehicle in the Pine Tree State:
Auto Insurance in Maine
Maine requires drivers to carry auto insurance. The minimum coverage requirements are:
Bodily Injury Liability Insurance: $50,000 per person/$100,000 per accident
Property Damage Liability Insurance: $25,000 per accident
Combined Single Limit: $125,000 (combines bodily injury and property damage liability)
Underinsured/Uninsured Motorist Coverage: Equal to Bodily Injury Liability Insurance limits
Medical Payments Coverage: $2,000
Liability insurance covers injuries and property damage to others if you are responsible for a crash. Underinsured/uninsured motorist coverage protects you if you are involved in an accident with another driver who is not adequately insured. Medical payments coverage pays for medical bills for you and your passengers.
You can, of course, choose a policy with more coverage than Maine's minimum requirements. You can also purchase optional collision coverage, which pays for damage to your vehicle, as well as comprehensive coverage, which covers damage from events like vandalism, severe weather, and animal encounters.
Maine's Car Culture
Even people who know nothing about Maine have probably heard the joke about its seasons. You know, the one that goes, "Maine has four seasons: almost winter, winter, still winter, and road construction."
In reality, Maine's weather has more variety than that. But the state's snowy winter and rugged topography, along with native ingenuity, do factor into local transportation history. In 1901, the Lombard Steam Log Hauler was patented by blacksmith Alvin Orlando Lombard of Waterville. The tracked vehicle, a precursor to the WWI-era tank and later tractors, pulled sleds of logs along icy, snowy ground in frigid weather. Kingfield-born twins Francis E. and Freelan O. Stanley invented several models of steam-powered cars, which their Stanley Motor Carriage Company produced from 1902 to 1924. Freelan and his wife drove one up New Hampshire's Mount Washington, setting the record for the first car to climb the Northeast's highest peak. And it's not surprising that there's a Maine connection to the development of the modern snowmobile. A number of local businessmen were involved in developing and distributing the vehicles that allowed residents of isolated, snowy places to get around.
Your Mileage May Vary
To this day, Mainers spend a lot of their time on the road. According to the U.S. Department of Transportation
Federal Highway Administration
, Mainers drove, on average, 15,420 miles in 2014 – almost exactly 1,000 miles more than the average American, who covered 14,425 miles that year. It's also the highest of all six New England states.
But lots of miles driven doesn't necessarily translate to a long commute. The
Bureau of Transportation Statistics
found that in 2013, the mean travel time to work in Maine was 22 minutes, the second-quickest commute in the region (Vermont clocked in at 21 minutes.) 77.4 percent of Maine workers drove alone, while 10.6 percent carpooled, and only 0.7 percent took public transportation. (As for the rest, 5.5 percent walked, biked, or got to work using some other means, and 5.7 percent worked from home.)
Maine does have several local and intercity bus systems, as well as more picturesque modes of transport; ferries carry passengers to the state's many islands, and Amtrak runs the Downeaster along a section of the coast multiple times a day. But in such a large and sparsely populated state, these limited options can't get everybody everywhere. So residents tend to rack up the miles, whether they're driving to work or taking time off to take advantage of living in a place called Vacationland.
Urban vs. Rural Roads
The National Highway Traffic Safety Administration (NHTSA) found that in 2015, 83 percent of the 156
traffic-related fatalities in Maine
were due to crashes on rural roads, while 17 percent were the result of accidents on urban roads. Only a handful of other states had an equally high or higher percentage of rural road fatalities.
The relative danger of rural roads in Maine is not surprising given that only one major Interstate, I95, crosses the state, and as the 39th largest and 41st most populous state in America, it's the least densely populated state east of the Mississippi River.
While any type of road can prove dangerous under the right conditions, Maine is home to some unique driving challenges, especially on rural roads. That's why the Maine Department of Transportation provides
wildlife safety tips for drivers
, including common sense strategies like sticking to the speed limit as well as the proper technique for crashing into a moose (the official state animal, of course) when it can't be avoided.
The Price of Gas
In late September 2017, the
average price of gas in Maine
was $2.59 a gallon. That's not far from the national average of $2.57. Of course, gas prices can vary quite a bit from day to day depending on local and world events, and the exact price you pay will always depend on your location; generally, gas prices are slightly higher in Bangor than in Portland, and slightly higher in Portland than in Lewiston.
Wherever you're driving, despite the whims of the market, you do have some control over how much you spend on fuel. You can take simple steps, such as slowing down on the highway and maintaining your tires, to
increase your vehicle's fuel efficiency
.
The Unemployment Rate
Data from the Bureau of Labor Statistics shows that in August of 2017, while the nationwide unemployment rate was 4.4 percent,
Maine's unemployment rate
was 3.8 percent. That makes the Pine Tree State the 15th lowest in unemployment.
Rates of employment matter for drivers because they can affect conditions on the roads. For one thing, when more people are employed, the number of commuters increases, leading to heavier traffic. For another, when someone becomes employed, they may suddenly find themselves with disposable income they didn't have before. This means they're finally able to buy a new car and fill it up with gas whenever they want to, or take longer trips that allow them to take the time to pursue hobbies, go shopping and spend money on leisure activities. Eventually, a lower unemployment rate can lead to more bustling downtown areas, more crowded parking lots, and more visitors to local attractions like Acadia National Park and outlet stores in Freeport and Kittery.
It's important to remember, however, that statewide unemployment numbers don't always tell the whole story. In Maine, like in most states, regional differences can be considerable. Maine's unemployment rates are higher in the northern, inland parts of the state and lowest along the coast, with the exception of Washington County, which has the highest unemployment rate in the state.
Distracted Driving
Though there are proven ways to
prevent distracted driving
– which can refer to any activity, from texting to eating to interacting with a passenger, that all take a driver's attention away from the road – that doesn't mean it's not a serious problem. The NHTSA found that
distracted driving killed
3,477 people in America in 2015, and in 2016, police issued 866
tickets for distracted driving
and blamed 750 crashes on the behavior. These high numbers don't represent the extent of the issue, according to law enforcement officials of Maine.
In Maine, there are several laws that deal with distracted driving. Drivers under 18 cannot "manipulate, talk into or interact with a mobile telephone or handheld electronic device;" with fines ranging from $50 for a first offense to $250. Drivers of all ages caught texting while driving can face penalties from a minimum $250 fine to a ninety day license suspension. More broadly, motorists can be cited for failure to maintain control of a motor vehicle if they commit a traffic infraction or are involved in an accident while distracted. The law defines this as driving while engaging in any activity that is "not necessary to the operation of the vehicle" and that "actually impairs, or would reasonably be expected to impair, the ability of the person to safely operate the vehicle."
Teen Drivers in Maine
If you're a teenager in Maine who wants to obtain a driver's license, the first step is applying for a learner's permit, which can be done at age 15 and requires applicants to pass a written exam. Learners under 21 must log 70 hours of practice driving, 10 of them after dark, and must be accompanied by a licensed driver who is at least 20 years old and has held their license for at least two years.
To apply for a road test to get a driver's license, you must be at least 16 and have held your learner's permit for six months. If you are under 18, you must also have completed an approved driver education course. All new drivers under 21 first receive a provisional license. These licenses come with some restrictions on night driving and passengers. They can also be suspended if the driver is convicted of a moving violation. After the provisional period, teens are eligible for a full driver's license without restrictions.
Drivers under 18 are prohibited from using handheld mobile devices or cellphones.
Maine's
Bureau of Motor Vehicles
provides resources for teens (and parents), including application requirements, study guides, a list of approved driver education options, and a pledge to never text and drive.
If you are the concerned parent or guardian of a new driver, you can also
monitor your teen's driving
remotely when you aren't in the passenger seat.
The State of Driving in Maine
Maine driving can have its challenges, from winter weather to wildlife. But it can also be a joy, leading drivers through unspoiled natural areas and down the old-fashioned streets of quaint small towns. But whether you're driving to the office in Portland or cruising over the Penobscot Narrows Bridge just to take in the view, being aware of local laws and regulations will help keep you safe on the roads of the Pine Tree State.