Driving in Ohio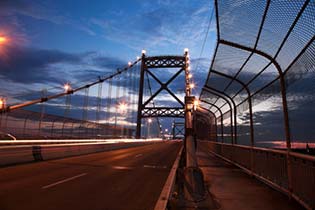 There are gorgeous routes criss-crossing the state of Ohio – roads that take you through covered bridges in picturesque country landscapes, past lighthouses dotting the shore of Lake Erie, and over forested, rolling hills bursting with color each autumn.
But not every driving experience in the Buckeye state is so idyllic. Driving in Ohio can also include urban traffic, congested highways, and hazardous road conditions. Before you get behind the wheel, it's important to recognize the specific driving challenges you may face in Ohio so that you can make the best and safest decisions on the road.
Here is just about everything you need to know about the state of driving in Ohio:
Auto Insurance Regulations in Ohio
Drivers in Ohio are
required to purchase
bodily injury liability coverage, as well as property damage liability coverage with their
automobile insurance
. The required minimum for bodily injury liability is $25,000 per person and $50,000 for all persons in any one accident. For property damage liability, the required minimum is $25,000 for injury or destruction of property of others in any one accident. Most drivers will choose to purchase additional coverage, including collision coverage, comprehensive coverage, full tort coverage, and uninsured motorist coverage.
According to the Insurance Information Institute,
12.4 percent of Ohio motorists are uninsured
, making Ohio the 22nd-most uninsured state in the nation. To help combat the problem of uninsured motorists, the
Bureau of Motor Vehicles
randomly selects approximately 5 percent of registered vehicle owners to submit proof of insurance to the BMV.
Race Tracks, Luxury Cars, and Pickups: Car Culture in Ohio
While you may think of college football as the sport of choice among Ohioans, there is a thriving culture of car racing in the Buckeye State. The state is home to nearly 100 different race tracks, ranging from the historic
Mid-Ohio Sports Car Course
, a 2.4 mile road course which hosts IndyCar, NASCAR, and vintage motorcycle races annually, to oval race tracks like the
Attica Raceway Park
, where you can watch sprint car races.
While driving may be a spectator sport in Ohio, cars are also a major status symbol among the more average drivers. According to Randi Flynn, of Grove City, Ohio, "I think people here view cars like Lexus, Mercedes, or BMW to be the ultimate social status car, but they lose their mind when they see anything more expensive than that. I was in downtown Columbus once and a guy pulled up in a Ferrari. People came over to gawk like it was a space ship that had just landed, instead of a $200,000 car."
Leave the city, however, and the status symbol car changes. Among the rural areas of Ohio, pickup trucks are more likely to be revered than luxury cars. Flynn writes, "If you drive 10 minutes south of Columbus to the Teays Valley area, people are more impressed with an extended cab Ford F-150."
Miles on the Odometer in Ohio
The number of miles you drive per year can depend greatly on your specific circumstances, but the driving habits of the average American or average Ohioan can give you some insight into what kind of road behavior to expect from other drivers. For instance, the average American driver racked up about
13,476 miles
on the odometer as of 2014, according to the U.S. Department of Transportation Federal Highway Administration. Ohioans, on the other hand, only drove 12,906 miles that same year.
Though the mileage difference between Ohio drivers and national average is a modest 500 miles, that difference can affect drivers' maintenance costs. The more miles you put on your car, the more money you will need to invest in both irregular and regular maintenance to keep your motor humming, so any reduction in your overall driving can help your bottom line.
Financial blog My Money Design calculates that the cost of such maintenance is approximately
$0.26/mile
. That means the average American driver can expect to spend $3,504 in annual maintenance costs, while the average Ohioan will spend $3,356. Drivers in the Buckeye State can save even more than $150 per year on maintenance costs by changing driving habits to reduce the miles they put on their cars.
Ohioans may also want to reduce their mileage because of road conditions in the state. The Washington Post reported in 2015 that
24 percent of Ohio's roads
are in poor condition, which means "they have so many major ruts, cracks and potholes that they can't simply be resurfaced – the need to be completely rebuilt." This can hardly come as a shock to Ohioans who joke that the official flower is the orange traffic barrel – but it may surprise you to learn how big a toll those poor roads can take. When nearly 1 in 4 roads are pitted with potholes, ruts, and cracks, the cost of maintaining your vehicle goes up. The Post calculates that Ohioans can expect to pay an additional $446 per year in maintenance related to driving on poor roadways – which is certainly a good reason to reduce the miles you drive, especially when the orange traffic barrels are blooming.
Rural Driving vs. Urban Driving
For Megan McBride, who grew up in Newbury, Ohio – a small, rural township on the far east side of Cleveland – driving in larger cities in Ohio can be much more intimidating than country driving: "Columbus drivers can be crazy. There are people doing 90 mph on the exit ramps, and everyone seems to prefer passing on the right."
While McBride's driving experiences in Columbus have been anxiety-inducing, the
Insurance Institute for Highway Safety
has actually found that rural roads are more hazardous for drivers than urban roads. In 2015, the rate of crash deaths per 100 million miles traveled was 2.6 times higher in rural areas than in urban areas nationally.
Of course, urban driving can also be hazardous, as McBride noticed when she lived in Columbus. Some of the behavior she noticed may be related to road design. According to Flynn, "the worst thing I've noticed about Ohio roads is the design of the on/off ramps. Never in my life have I seen the exit ramp and the on ramp be feet apart. It's terrifying when you are trying to exit and someone is speeding toward you to get on the highway."
Gas Prices
While it's unlikely you'll notice that $0.10 difference between the national average cost and the Ohio average cost, the fluctuations in gas prices across the state can also make a difference. The lowest price for gas in the state of Ohio is $2.424, and can be found in the Canton area, while drivers in Cincinnati are shelling out the most for their fill-ups, at $2.620 per gallon.
While lower gas prices – even if the savings are modest – do help your bottom line, they can also affect driving behavior. When
gas is more affordable
, more drivers will be on the road, which means accidents become more likely.
The Unemployment Rate
Just as gas prices can affect the number of drivers on the road, so can the unemployment rate. When more people are employed, there are more commuters on the road getting to and from work.
While higher unemployment does reduce the number of cars on the road during rush hour, it is also a sign of a less healthy economy. That means fewer people have discretionary money to spend on entertainment or dining, which means there are fewer people driving on their off time, as well. So even though unemployment can be bad news for the health of an economy, it does generally lead to fewer accidents because those who are unemployed are spending less time behind the wheel.
Distracted Driving
Ohio is working to remediate distracted driving. In 2012, the state passed a law banning any texting or emailing while driving, although violating this law is considered a secondary offense – meaning you can be cited for texting while driving if you are pulled over for another traffic offense, but you cannot be pulled just for distracted driving. In addition, the recently passed House Bill 95 specifies that distracted drivers will be fined $100 for each instance of distracted driving. Under this new law, distracted driving is still considered a secondary offense.
Teen Drivers on the Road
The GDL program has three stages:
Temporary Permit – Teens who are 15 or older may apply for a one-year temporary permit. On this permit, teens may only drive while accompanied by a parent, guardian, or licensed driving instructor, until they reach age 16, at which point teens may drive with any licensed driver aged 21 or older. Permit holders are prohibited from driving between midnight and 6 a.m., unless accompanied by a parent, guardian, or instructor. All permit holders must receive a minimum of 24 hours of classroom instruction and 8 hours of behind-the-wheel instruction, and complete 50 hours of practice driving, including at least 10 hours of nighttime driving, with a parent or guardian.
Probationary License – As of age 16, and provided that the teen has held a temporary permit for at least six month, teens may apply for a probationary license. To receive it, the teen driver must successfully complete the Ohio driving and maneuverability tests. On this license, 16-year-olds are prohibited from driving between midnight and 6 a.m. and 17-year-olds are prohibited from driving between 1 a.m. and 5 a.m., unless accompanied by a parent or guardian. 16-year-old license holders may not carry more than one passenger.
Full License – As of age 18, teens may receive a full license.
The State of Driving in Ohio
Whether you are enjoying a scenic route through gorgeous countryside or you are stuck in snarls of traffic in a one of the major cities, driving in Ohio will present you with unique challenges and hazards. Understanding the state of driving in the Buckeye State can help you make the best and safest decisions on the road.