Here's What to Do – and What to Expect
Whether you have a small fender-bender or a major collision, auto accidents are stressful. Here's how The AARP® Auto & Home Insurance Program from The Hartford1 can help you get back on the road and back to your life.
One of the first things to do after an accident is report your claim to The Hartford. What happens next? These ABCs of the claims process will help you know what to expect so you feel more comfortable and confident.
Assist You Through the Claims Process
The Hartford is here for you. We work as your partner to resolve your claim as quickly as possible.

If you report your claim by phone, a Hartford Customer Care representative will gather information, help you understand the claims process, and answer any questions you may have. If you report your claim online, we'll call you within one business day to gather information.
Within one business day of reporting your loss, a Claims professional from The Hartford will contact you to answer any additional questions and begin an investigation into the accident. Your Claims professional can also offer services to get you back on the road, such as getting an estimate of vehicle damages and arranging for a rental car, if necessary.


"We made a phone call to The Hartford and within 36 hours the repair shop had been paid and the parts ordered. I was very pleased with the speed and caring attitude of the claims person."
– Online review from LLW42, Utah
Be sure to keep the name and contact information of your Claims professional, as well as the claim number assigned to your claim. Contact your Claims professional any time during the claims process if you have questions. The Hartford's
Customer Service Center
also has a variety of helpful resources to assist you with the claims process.
You can even use The Hartford's smartphone app to report your claim by uploading accident photos and details directly from your phone.

Be Thorough in Our Investigation
We'll confirm your insurance coverage and begin an investigation of your claim. In addition to reviewing the information you provided, your Claims professional will review reports from police and other law enforcement officials, statements from witnesses, car repair estimates, and any other relevant details.
Resources with expertise in assessing property damage, bodily injury, or liability in connection with damages will also be consulted if necessary. Only after a thorough investigation is complete will your Claim professional determine the appropriate payment.
Connect You to Helpful Resources
The Hartford wants to help you recover as quickly and easily as possibly after a loss. While you can use any vehicle repair facility you wish, you can save time, trouble and money by choosing a shop in The Hartford Auto Repair Network.* When you use an authorized facility:
The Hartford will stand behind the workmanship of repairs for as long as you own your car.
No additional estimates are required. We work directly with the auto repair shops so there's a lot less paperwork for you to worry about.
We pay network shops directly, so except for your deductible, you won't pay out-of-pocket expenses.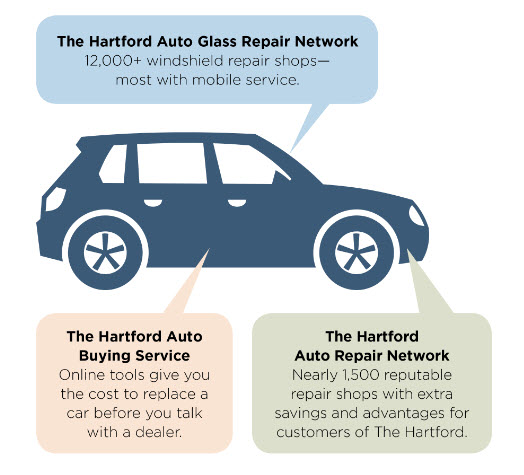 To find a network repair shop near you, ask your Claims professional or visit
thehartford.com/autorepairshops
. If your claim is for glass only, we can put you in touch with windshield repair shops – and The Hartford will waive the deductible when a window can be repaired rather than replaced.
Need to replace your car? When you're in the market for a new car, use The Hartford Auto Buying Service to get vehicle prices and Guaranteed Savings** before you even talk with a dealer. Learn more at
thehartford.com/replacecar
.
Relax – You Have Our Promise of Lifetime Renewability.†
A car accident is stressful enough without worrying that you'll lose your coverage.

The Hartford promises to renew your policy for as long as you're able to drive and meet a few simple requirements, even if you have traffic tickets or accidents.†

If someone files a claim against you, contact your Hartford Claims professional.
We'll investigate to assess the allegations and pay the claims that you're legally liable to honor.
If you suspect fraud, contact your Hartford Claims professional. We'll investigate the matter through our Special Investigations Unit. Each year billions of dollars are lost to insurance fraud, including staged auto accidents, faked losses and inflated medical bills.
Fraud can occur on something as simple as a glass-only claim. Representatives may approach you, ask for your insurance card or policy number and offer to report the claim for you. If this happens, ask them to show you the damage and get their business card. Then call The Hartford yourself to report the claim and schedule the repair.
* Policyholders are free to select the repair shop of their choice for repairs. Benefit applies only to those repair shops that are part of The Hartford's network

** Actual price set by dealer and prices vary by area. Guaranteed Savings not available in all states. See website for more details on customer savings.

† If you are age 50 or older, once you're insured through this Program for at least 60 days, you cannot be refused renewal as long as applicable premiums are paid when due. Also, you and other customary drivers of your vehicles must retain valid licenses, remain physically and mentally capable of operating an automobile, have no convictions for driving while intoxicated and must not have obtained your policy through material misrepresentation. Benefit currently not available in HI, MI, NH, NC and TX.
The AARP Automobile & Homeowners Insurance Program from The Hartford is underwritten by Hartford Fire Insurance Company and its affiliates, One Hartford Plaza, Hartford, CT 06155. CA License #5152. In Washington, the Auto Program is underwritten by The Hartford Casualty Insurance Company, and the Home Program is underwritten by Trumbull Insurance Company. In Michigan, the Auto and Home Programs are underwritten by Trumbull Insurance Company. Auto program not available in Massachusetts. Homeowners product is not available in all areas, including the state of Florida.
AARP and its affiliates are not insurers. Paid endorsement. The Hartford pays royalty fees to AARP for the use of its intellectual property. These fees are used for the general purposes of AARP. AARP membership is required for Program eligibility in most states.
Specific features, credits, and discounts may vary and may not be available in all states in accordance with state filings and applicable law. Applicants are individually underwritten and some may not qualify for this insurance, based on their driving history. Your premiums will be based on your verified driver and vehicle information and the coverage choices and policy options that you select.
1 In Texas, the Auto Program is underwritten by Southern County Mutual Insurance Company through Hartford Fire General Agency. Hartford Fire Insurance Company and its affiliates are not financially responsible for insurance products underwritten and issued by Southern County Mutual Insurance Company. The Home Program is underwritten by Trumbull Insurance Company.