Workers' Comp Insurance in Arkansas

Arkansas
workers' compensation insurance
coverage gives your employees benefits to help them recover from a work-related injury or illness. Workers' comp benefits can help pay for your employee's:
Medical bills
Missed wages
Disability benefits
Workers' comp can also cover funeral costs if your employee loses their life while working on the job. For employers like you, workers' comp can help protect you if an employee's family files a lawsuit.
Workers' Compensation: Arkansas Coverage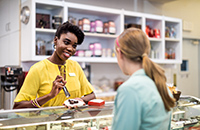 Workers' compensation insurance from The Hartford can help cover medical expenses for an employee's work-related injury or illness.
Coverage requirements
in Arkansas include employers with at least three employees.
1
If you're an employer with current coverage, you must post instructions (
Form P
) in your workplace with details on:
Your insurance carrier
State law
What to do if there's an injury or illness
If you don't have coverage, you may have to pay a penalty to the state. And if you fail to display the required instructions, you could lose some protection provided to you through workers' comp coverage.
Proof of coverage,
also known as a certificate of insurance, proves your business has coverage and includes important policy details. Get a
quote
today to learn more about how we make getting proof of coverage easy.
What's covered? Workers' comp insurance benefits both employers and employees in the event of an occupational illness or accidental injury.
What Arkansas Workers' Compensation Covers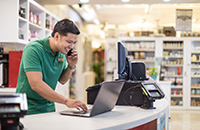 Workers' compensation insurance from The Hartford can help cover:
Work-related accidents or injuries if your employee gets hurt on the job. Workers' comp can help defray his medical costs, such as:
Emergency room visits
Prescriptions
Surgeries
Missed wages if your employee takes time away from work after getting sick or hurt from a work-related cause. Workers' comp can help replace some of their lost wages until they return to work.
Ongoing care costs if a work-related injury or illness requires additional treatment, such as physical therapy or multiple surgeries.
Illnesses caused by exposure to chemicals or allergens in the workplace. Employees with a work-related illness can receive workers' compensation benefits to help pay for necessary medical treatment.
Repetitive stress injuries
that develop over time from harmful, repeated motions. Workers' comp can help cover your employee's costs to treat their work-related repetitive stress injury.
Funeral costs if a work-related injury or occupational illness causes the death of an employee.
Disability benefits if a work-related injury or illness is so severe that your employee is unable to return to work in the same capacity. Disability is assessed for AR workers with the Arkansas Workers' Compensation Impairment Rating Guide.2
Arkansas Workers' Comp Exemption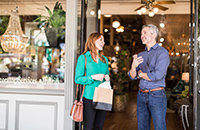 There are some exemptions to Arkansas workers' compensation laws. Exclusions from workers' compensation are usually granted to sole proprietors. But business entities can choose to purchase workers' compensation insurance. There are also exemptions for some businesses with less than three employees. For example, you need workers' comp if you have two or more employees and work on buildings.
3
Talk with your insurance agent or call the Arkansas Workers' Compensation Commission at
800-622-4472
and see if your business is exempt from workers' compensation requirements.
Workers' Comp Insurance Arkansas Laws
The Arkansas Workers' Compensation Commission is responsible for the administration and enforcement of workers' comp laws.4 The Commission monitors workers' comp claims and benefits payments throughout Arkansas.
Arkansas Workers' Compensation Claims
Arkansas employees are required to report work-related accidents as soon as they happen. To file a claim for workers' compensation in Arkansas, visit our
workers' comp claims
page today.
This article provides general information, and should not be construed as specific legal, HR, financial, insurance, tax or accounting advice. As with all matters of a legal or human resources nature, you should consult with your own legal counsel and human resources professionals. The Hartford shall not be liable for any direct, indirect, special, consequential, incidental, punitive or exemplary damages in connection with the use by you or anyone of the information provided herein.