NJ Workers' Compensation Law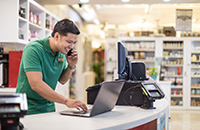 The State of New Jersey passed the New Jersey Workers' Compensation Law in 1911. This law made workers' compensation coverage mandatory for all employers.
1
Workers' compensation insurance
provides benefits for your workers who get injured on the job or become sick from a work-related cause.
You can buy workers' comp coverage and comply with state law through a private insurance carrier, like The Hartford.
Workers' Compensation: New Jersey Coverage
Workers' compensation insurance from The Hartford helps pay medical expenses for your employees who get hurt on the job or acquire a work-related illness. Your employees can also receive workers' compensation benefits to recover some of their lost income if they miss work.
Here are a few ways workers' comp can help your employees:
While lifting a heavy piece of equipment, your employee severely injures his back. He goes to the doctor for treatment and finds out he needs physical therapy to help him recover. Workers' comp can help cover his medical costs to treat his back injury.
Your employee is delivering supplies to a work site. While driving, she's rear ended by another driver. The impact causes her to hurt her neck. Workers' comp can help cover her rehabilitation costs.
Your employee trips over a box in the office. He breaks his arm in the fall. He goes to the hospital and needs surgery. Workers' comp can help cover his medical costs. It can also help cover any potential ongoing care he may need to recover.
Specialists at The Hartford can help you get the right coverage for your business.
Get a Workers' Comp Quote
or call
855-829-1683
and speak with our team to start protecting your business and employees.
Coverage requirements in New Jersey state that every employer needs workers' comp insurance, including LLCs.2 No matter the size of your business, one of the most basic costs of operating your business is ensuring your employees are safe when a work-related injury or illness occurs.
Proof of coverage
is also known as a certificate of insurance. It helps prove you have workers' comp coverage in NJ and includes important policy details.
Get a Workers' Comp Quote
and learn more about how you can get proof of coverage for workers' compensation.
What's Covered? Workers' compensation insurance in New Jersey covers many things. It provides benefits to your employees who become injured or ill because of work-related reasons. Workers' comp coverage includes:3
Partial replacement of lost wages if your employee is unable to return to work due to a work-related injury. They can receive temporary disability benefits for up to 400 weeks.
Help covering medical treatment so your employee can recover from a work-related injury or illness. New Jersey law also gives the employer or insurance carrier the right to choose their health care provider for medical treatment.
Death benefits to help pay for funeral costs if your employee loses their life from a work-related injury or illness.
Additional New Jersey Workers' Compensation Coverage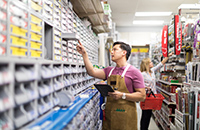 New Jersey workers' compensation insurance from The Hartford can also help cover:
Ongoing care costs to help your employee recover from a work-related injury or illness. Sometimes an injury or illness needs more care in addition to the initial treatment, such as physical therapy or surgeries.
Repetitive stress injuries
that develop over time, such as carpal tunnel syndrome. Workers' comp can help cover your employee's costs to treat a work-related repetitive stress injury.
Missed wages if your employee has to take time away from work to recover from a work-related injury or illness. Workers' comp can help give them partial wage replacement benefits.
Illnesses caused by working in an environment with harmful substances or allergens. If your employee becomes ill due to a work-related incident or condition, workers' comp can help cover their treatment costs.
Funeral costs if a work-related accident or illness causes your employee's death.
Accident or injury costs if your employee gets hurt on the job.
Disability benefits if your employee becomes disabled after suffering a work-related injury or illness.
When Does Workers' Compensation in New Jersey Start?
There is a seven-day waiting period before workers' comp benefits begin, according to NJ state law. If the employee can't return to work within that period, the employee may be eligible for workers' compensation.4
Can All Employers in New Jersey Choose Their Workers' Compensation Insurance Provider?
Not every New Jersey employer can choose their own workers' compensation coverage provider. New Jersey's Compensation Rating & Inspection Bureau (CRIB) may assign a provider if an employer is a business in a high-risk industry.5 It may also assign a provider if a business has no safety record.
NJ Workers' Compensation Rates
Insurance companies look at different factors when determining a business's workers' compensation rate. Look at this simplified formula to see the components that make up worker's comp costs:
Workers' Classification Code Rate X Experience Modification Number X (Payroll/$100) = Premium*
Classification code rate designates the type of work the business's employees do. Classifications differ depending on the amount of risk.
Payroll gets multiplied by the specific rate that matches up to a classification code. Each classification code has a rate per $100.
Experience modification number refers to the employer's claim experience over the last five years. Employers with fewer claims in their history can pay less on their premiums.
Employer Penalties & NJ Workers' Compensation Law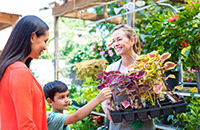 If you don't have a workers' comp policy, you can face fines or criminal charges. But workers' compensation penalties don't often come from employers refusing workers' comp coverage. Instead, it's from misunderstanding employee classification. For example, business owners need to know how to classify contractors, temporary employees or consultants.
Refer to the
ABC test
if you don't know how to classify the workers in your business. The ABC test helps determine if a person is your employee or an independent contractor.
If there's a benefits dispute, employers, employees or insurance companies can file a formal Claim Petition. They can also file an Application for an Informal Hearing. You can file these applications with the state's Division of Workers' Compensation.
During an informal hearing, an employer or employee can seek to hire workers' compensation attorneys for legal representation. A judge will make a ruling during the hearing, which is not binding on either party.6
If your employee files a formal claim, the judge's ruling is binding. You can only bring appeals to the Appellate Division of the Superior Court.7
New Jersey Workers' Compensation Claims
To report an injury, you can get
NJ workers' compensation forms
on the state website. To file a claim with The Hartford for workers' compensation in your state, visit our
claims
page today.
This article provides general information, and should not be construed as specific legal, HR, financial, insurance, tax or accounting advice. As with all matters of a legal or human resources nature, you should consult with your own legal counsel and human resources professionals. The Hartford shall not be liable for any direct, indirect, special, consequential, incidental, punitive or exemplary damages in connection with the use by you or anyone of the information provided herein.
* This is a simplified calculation for educational purposes only. Actual premium calculations can be more complex. Experience mods are subject to state requirements and do not apply to every policy.
6, 7
State of New Jersey, Department of Labor and Workforce Development, "Filing a Claim."