Workers' Comp Oklahoma

Oklahoma
workers' compensation coverage
provides benefits to both employees and employers. For employees, workers' compensation provides benefits if they become sick or injured from their job. For employers, workers' comp can protect them from lawsuits related to a work-related injury or illness.
In the Sooner State, a law creating the workers' compensation system passed in 1915.1 The law states nearly every employer must buy workers' compensation coverage.2
In some circumstances, certain employees in OK may be exempt from workers' comp coverage, such as:3
Sole proprietors
Members of a limited liability company (LLC) who own at least 10% of the capital
Members of a partnership
Stockholders who own at least 10% of capital
Family businesses with five or less family-related employees
These employees don't need coverage under Oklahoma's workers' comp law. But an Oklahoma business can elect to cover these employees. Consider getting workers' comp since coverage gaps can leave employers open to liability lawsuits.
Oklahoma has state-funded, competitive workers' compensation. This means employers can buy workers' comp coverage through the state to make sure they're complying with state law. Employers can also buy coverage through a private insurance carrier, like The Hartford.
Oklahoma Workers' Comp Insurance Coverage
Oklahoma workers' compensation provides various benefits to sick or injured workers, including:
Help paying for medical care
Partial reimbursement of out-of-pocket expenses
Temporary total disability benefits
Some examples of how this insurance can help workers and employers include:
An employee slips and falls on ice walking into work. He goes to the hospital with a broken wrist and finds out he needs physical therapy. Workers' comp can help cover the medical treatment he needs to recover from his wrist injury.
An employee in a warehouse throws out her back while lifting a heavy package. She goes to the hospital for treatment. Workers' comp can help cover the cost of her hospital visit.
An employee is driving to a customer's house in Oklahoma City to make a delivery. He rear ends another car and develops whiplash. Workers' comp can help cover the cost of medical treatment and ongoing care he needs to recover.
Coverage requirements for Oklahoma workers' comp include businesses with employees. By state law, workers' comp policies must cover:4
Medical care
Out-of-pocket expenses
Temporary total disability
Permanent partial impairment
Permanent total disability
Death benefits
Disfigurement
Rehabilitation
Job-placement services
Proof of coverage
allows businesses prove they have Oklahoma workers' compensation insurance. Also known as a certificate of insurance, this document includes important details about a business's policy. Getting proof of coverage with The Hartford is easy. Request a
quote
to start.
What Workers' Comp in Oklahoma Covers: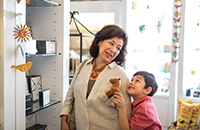 Oklahoma workers' compensation from The Hartford can help cover expenses related to:
Accident or injury if an employee is hurt on the job. Workers' compensation coverage can help cover their medical expenses.
Illness caused by employee exposure to harmful substances or allergens. Workers' comp can help cover treatment costs and expenses if an employee has a work-related illness.
Repetitive injuries
that develop as the result of cumulative trauma from years of harmful motions. Repetitive injuries, such as carpal tunnel syndrome, can be difficult to treat and may require ongoing care. Workers' comp can help cover an employee's medical expenses if they have a work-related repetitive injury.
Missed wages if an employee has to take recovery time for their work-related injury or illness. Workers' comp can help replace some of their lost wages until they return to work.
Funeral costs if an employee loses their life while on the job.
Disability benefits to help an employee recover from a temporary or permanent disability.
Oklahoma Workers' Compensation Commission
The Oklahoma Workers' Compensation Commission (OWCC) is responsible for handling workers' comp claims. If a dispute arises from a workers' compensation claim, employees can file a claim with the
OWCC online
. The Oklahoma Workers' Compensation Court of Existing Claims hears the case.
Oklahoma Workers' Compensation Claims
To file a claim in Oklahoma, visit our
claims
page for further information.
This article provides general information, and should not be construed as specific legal, HR, financial, insurance, tax or accounting advice. As with all matters of a legal or human resources nature, you should consult with your own legal counsel and human resources professionals. The Hartford shall not be liable for any direct, indirect, special, consequential, incidental, punitive or exemplary damages in connection with the use by you or anyone of the information provided herein.
2, 3, 4
Oklahoma Workers' Compensation Court of Existing Claims, "Employer's FAQ"