Workers' Compensation Insurance Texas

Home of the world's first rodeo, The Lone Star State is unique to say the least. Most states require companies to have
workers' compensation insurance
for employees in the event of a job-related injury or for those who become sick or hurt on the job. Texas does not require that you have this coverage. But being a "non-subscriber" or operating a business "bare" can put the company at serious risk.
Texas employers must disclose if they have workers' compensation insurance or not. Those without workers' comp coverage in Texas leave their business open to personal injury lawsuits.
With workers' comp insurance, Texas employees can receive benefits if they get injured or sick from a work-related cause. Workers' compensation insurance can also help the employer. It provides defense against claims brought by injured workers, such as:
Assumption of risk
Contributory negligence
"Last clear chance"
Co-worker negligence
Without the proper insurance coverage, you will be responsible for all costs relating to the personal injury lawsuit. This is true even if it was the employee's fault. Costs can include damages and legal and medical fees.
Workers' Comp Insurance Coverage in Texas
Workers' compensation insurance can help cover:
Some wages from lost work
Medical costs to treat a work-related injury or illness
Legal fees if a worker's family files a lawsuit against your business
Workers' comp in Texas may also cover a deceased workers' family with financial benefits.
Here are a few examples of how workers' compensation insurance in Texas can help protect your business and employees:
An employee in Austin incurs an overuse injury from repetitive motion. The injury results in an ER visit. The employee also has to take time off from work to recover. Without workers' comp coverage, you must pay for all fees relating to the visit.
An employee is on their way to visit a client in Dallas. He gets injured in a car accident and is taken to the hospital. Workers' comp can help cover the hospital fees.
One of your employees slips and falls while performing a task. The injury requires immediate hospitalization or a doctor's visit due to residual pain. Workers' comp can help cover the medical costs to treat the injury. It can also help cover the ongoing care costs to help the employee recover.
The Hartford's workers' compensation insurance can help your business pay for medical expenses necessary to treat these job-related injuries and illnesses. Workers' compensation insurance will also help Texas employees keep their income if they must take time away from work to recover following an injury.
Coverage Requirements – Employers in The Lone Star State are not required to obtain workers' compensation insurance. Employers can get it from any insurance company licensed to write workers' compensation insurance in the state of Texas. One of the most basic costs of running your business is ensuring your employees are safe and on on-the-job injuries are minimized.
Proof of Coverage
– Proof of workers' compensation insurance coverage in Texas is easy when you're insured with The Hartford. Proof of coverage is important for any business owner. It helps prove that you have workers' comp in TX. It can also tell you what type of injuries your Texas workers' comp policy covers. Learn more about proof of insurance in Texas by getting a
quote
today.
What's Covered – Workers' compensation insurance provides benefits to employees who get injured or sick on the job. This coverage is extremely beneficial for employees and protects employers in Texas too.
What Texas Workers' Compensation Covers
Workers' compensation insurance can help cover:
Accident or Injury – If a Texas employee is injured on the job, workers' comp can help cover the medical costs.
Illness – Texas employees can become ill because their working conditions. For example, an employee can become sick after being exposed to harmful chemicals or allergens. Workers' compensation insurance can help provide benefits to the employee.
Repetitive Injury
– Not all work-related injuries happen in one unique incident. Repetitive injuries can take months or years to develop. Coverage for repetitive injury can help while employees receive treatment and recover.
Missed Wages – If an employee is unable to work due to a workplace injury or illness, lost wage benefits can help keep workers and their family afloat until the employee is able to return to work.
Ongoing Care – Benefits for ongoing care needed due to a workplace injury or illness. This can include physical therapy that may be needed to help an employee recover from his or her injury.
Funeral Costs – Coverage to help pay for funeral costs and all other related expenses, such as burial costs, if an employee dies due to a work-related accident.
Disability – Some work injuries can be so severe that employees may never be able to return to work. Workers' comp insurance in Texas can provide benefits to help pay for medical bills. It can also help replace some lost wages for disabled employees.
Texas Workers' Compensation Laws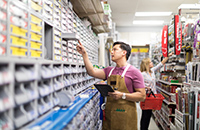 Workers' compensation systems are established by different statutes in each state. State laws and court decisions control the program in that state. No two states will have exactly the same laws and regulations when it comes to workers' compensation.
Learning and understanding Texas workers' compensation law is extremely important when it comes to the safety of your business and your employees. Texas workers' compensation laws set the limits on how much benefits employees get if they are hurt or sick on the job.
Texas employers must inform employees and the Division of Workers' Compensation (DWC) if it no longer carries coverage. This can be done with
Form DWC005
.
Employers that do carry workers' compensation insurance may require an employee to submit to medical examination. Following this, the injury must be reported to the employer's insurance company within eight days of the notification of the injury. Employees have 30 days to give notice of work-related injury or illness to their employers in Texas. Employees also have one year to file a claim for compensation with the workers' compensation division in Texas.1
The Division of Workers' Compensation (DWC) Texas
The DWC operates under the direction of the appointed
commissioner
. The Texas Department of Insurance (TDI) regulates the workers' compensation system in Texas. The TDI ensures that all workers' compensation costs are kept at a reasonable rate.
DWC monitors compliance of all parties (both employees and employers). It will take enforcement action when necessary to ensure that state laws are enacted and enforced. This includes:
Texas Workers' Compensation Act
Texas Labor Code
Other workers' comp insurance regulations
To make sure each employee is treated with dignity and respect when injured on the job;
That employees have access to a fair and accessible dispute resolution process;
An injured employee will have access to prompt, high-quality medical care; and
Each injured employee receives services to facilitate their return to work as soon as it is possible and considered safe by a health care provider.
DWC does not pay benefits to workers' compensation claims. Insurance carriers like The Hartford pay benefits for workers' comp claims in Texas.
Texas Workers' Compensation Rates
Insurance premiums
Payments made under deductibles
The administrative costs of handling claims and making reports to the state of Texas and your insurer
Workers' compensation rates in Texas will vary depending on a couple of factors, including:
What impairments and injuries are covered by your workers' comp insurance
How impairments are evaluated by the DWC
Who will be delivering medical care for the injured party
A workers' comp rate is also impacted by a business's claims history. A safer work environment can often lower the insurance cost. One of the most common
workers' compensation claims
is slip and fall accidents. Putting a program in place at your business to prevent these accidents can have a positive effect on your workers' comp rate. For example, The Hartford partners with
Shoes for Crews
in an effort to reduce slips and falls in the workplace.
Each state dictates coverage requirements. In Texas, workers' comp benefits include:2
Medical travel expenses
Vocational rehabilitation
Income benefits
Death benefits
There are limits to workers' comp benefits. So it's important to make an educated decision when choosing to receive them. Get a
quote
today or contact your local insurance agent or representative from The Hartford to learn more.
Texas Workers' Compensation Claims
To file a claim for workers' compensation in Texas, visit our
claims
page today.