Virginia Workers' Compensation Laws

The Virginia Workers' Compensation Act requires businesses with two or more employees to carry
workers' compensation insurance
. The Virginia Workers' Compensation Commission (VWC) oversees workers' comp in the Old Dominion state. A company has to have coverage whether they have part-time or full-time employees. If you work with subcontractors, they also count as a business employee.
1
Businesses can buy workers' compensation insurance from private insurance carriers, like The Hartford.
Employees working in Virginia can receive workers' compensation benefits for work-related injuries or illnesses. It can also protect employers from legal and medical fees. Workers' compensation insurance can help protect Virginia businesses and employees if:
An employee in Norfolk slips on water from a leaking pipe. Due to the slip, this employee injures his leg and requires medical treatment and physical therapy.
An employee in Arlington sustains an injury while lifting a piece of equipment. The employee needs medical treatment and also has to miss work.
An employee in Fairfax dies from an illness they contracted at work. As a result, the employee's family sues you.
Sick or injured workers can file a claim with the Virginia Workers' Compensation Commission. Employees can file claims:
In person at any VWC office location. Employees should fill out the Claim for Benefits form.
Online by using WebFile. This is the VWC's online portal for electronic records.
Through the mail. The mailing address is Virginia Workers' Compensation Commission, 333 E. Franklin St., Richmond, VA 23219.
By faxing the Claim for Benefits form to 1-804-823-6956.
Virginia Workers' Compensation Coverage Through The Hartford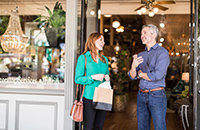 Workers' compensation insurance gives benefits to employees that get hurt or become sick on the job. It can also help replace some of an injured employee's lost income if they can't work. Here are a few other ways The Hartford can help Virginia businesses with their workers' comp needs:
Coverage Requirements – Virginia law requires employers with at least two employees to have workers' comp. Our specialists can help ensure your business gets the appropriate coverage. One of the most basic costs of operating your Virginia business is ensuring your employees are safe against injuries and illnesses on the job.
Get a
quote
for workers' comp insurance today. It's fast and easy. You can also call
1-855-829-1683
to speak to one of our insurance specialists. We're here to help you meet the workers' comp Virginia requirements.
Proof of Coverage
– This is also known as a certificate of insurance. It's important for any business owner. It helps prove you have workers' compensation in Virginia. It also explains what types of injuries the policy covers. Proof of insurance is simple when you're insured with The Hartford. Get a
quote
today to get a certificate of insurance for your Virginia business.
What's Covered – Workers' comp provides benefits to employees who are injured on the job. It also helps employees who get sick from a work-related cause. Workers' comp can help cover medical expenses, as well as replace some of their wage loss. An employee's family can also receive benefits if the employee dies from the accident or illness.
What Virginia Workers' Compensation Covers
Workers' compensation insurance from The Hartford can help with:
Disability – Some work injuries are so severe that employees may never be able to return to work. Sometimes an employee can return to work, but in a different capacity. Workers' comp can help pay for medical bills and lost wages for disabled employees.
Accident or Injury – Workers' comp can help cover an employee's medical costs if they get hurt in a work accident.
Illness – Working conditions may expose employees to harmful chemicals or allergens that can lead to illness. If an employee gets sick from work, workers' comp can help provide benefits to the employee.
Repetitive Injury
– Some work-related injuries happen in one isolated incident. Other types of injuries can take months or years to develop. Workers' comp can help cover the costs for employees to recover from a
repetitive stress injury.
Ongoing Medical Care – Sometimes an injured or sick worker may need ongoing care to recover from a work-related incident. For example, workers' comp can help cover the costs for physical therapy. Let's say one of your employees injures their back after improperly lifting heavy boxes at work. Workers' comp can help cover the physical therapy costs. It can also help cover other rehabilitation needed to help them recover.
Missed Wages – Sometimes a work-related injury or illness can cause an employee to miss work. Workers' comp can help replace some of their lost wages while they recover.
Funeral costs – In the unfortunate event there is an employee death due to a work-related accident or illness, workers' comp can help cover the funeral costs.
Virginia Workers' Compensation Claims
To file a claim for workers' compensation in your state, visit our
claims
page today.
This article provides general information, and should not be construed as specific legal, HR, financial, insurance, tax or accounting advice. As with all matters of a legal or human resources nature, you should consult with your own legal counsel and human resources professionals. The Hartford shall not be liable for any direct, indirect, special, consequential, incidental, punitive or exemplary damages in connection with the use by you or anyone of the information provided herein.
1 "Virginia Workers' Compensation Laws," FindLaw.