What Is Personal Property Insurance Coverage?
Personal property insurance is an essential part of your home insurance because it helps protects your personal belongings. These belongings can include:
Furniture
Clothing
Sporting goods
Electronics
Tools
Appliances
Personal property coverage is a part of your
homeowners insurance
policy that is there to help protect your belongings against damage or theft at home or anywhere else in the world.
Determining Your Personal Property Coverage Limits
Your personal property coverage is automatically calculated as a percentage of your dwelling coverage. This is usually 70 percent.
However, you can always customize your coverage to the amount you think your belongings are worth. For instance, property that is insured with
replacement cost coverage
, can be replaced with a comparable item at today's value, not depreciated
actual cash value
. For example, say your home is robbed and your new furniture is stolen while you are away on vacation. Your replacement cost coverage can help replace the items at today's value.
Replacement Cost Coverage: How it Works
At the time of a loss, your personal property has a value associated with it that reflects its age and condition. This is the actual cash value.
At The Hartford, we strive to go even farther than just reimbursing you the actual cash value.
With replacement cost coverage you're reimbursed the amount it would cost today to replace an item with a like, kind, and quality item.
With our coverage, we will first pay you the actual cash value. After you buy a new item and provide a receipt, we will pay you the rest of the replacement cost.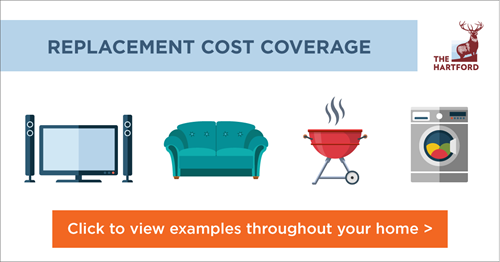 Insurance Coverage availability varies by state.
Get Extra Protection for Your Valuable Items
In some cases, you may need extra protection for your valuable items. This is where
valuable items blanket coverage
comes in. This coverage provides extra protection for your items. It will give you peace of mind, knowing that you're prepared for the unexpected.
This coverage is one of the additional
homeowners insurance coverages
that can be added to your homeowners policy. Items that are covered can include:
Jewelry
Furs
Silverware
China
Crystal
Also, keep in mind that while your homeowners policy caps coverage for theft on jewelry up to a $1,500 limit and silverware up to a $2,500 limit, the valuable items blanket coverage can increase the limit to $10,000 per item. It also extends coverage for lost or damaged valuables.
What May Not Be Covered
As you consider what you need for coverage, remember that certain damages are not covered by standard homeowners insurance policies. For example, say your property is damaged by a flood. Losses endured are not typically covered unless you have flood insurance coverage.
Other Homeowners Insurance Links