Workers' Compensation Insurance California

When it comes to
workers' compensation insurance
, California employers need coverage. Workers' comp provides coverage to employees experiencing a work-related injury or illness. Benefits include:
Partial recovery of lost wages
Help paying for medical care
Providing a deceased employee's family with a financial benefit
Workers' comp can also help protect your CA business. It can help cover the cost of related legal fees if an injured worker's family sues your company.
Workers' compensation insurance in The Golden State can help if:
An employee falls while renovating an office building. They're taken to the emergency room. The injury leads to weeks of recovery time. Workers' comp can help cover their ER fees and replace some of their lost wages.
An event coordinator is on their way to visit a venue. He is injured in a car accident and requires hospitalization. Workers' comp can help cover his hospitalization fees.
An employee hurts her shoulder while lifting heavy equipment. She gets taken to the hospital for treatment. She also needs physical therapy for recovery. Workers' comp can help cover her medical costs.
An employee gets sick after working with chemicals. He gets taken to the hospital for treatment. The doctor orders the employee to stay home for two weeks. Workers' comp can help cover his hospital and medical costs. It can also help replace some of his lost wages.
Workers' Comp in California Coverage
Workers' Comp in California: Coverage Requirements and Exemptions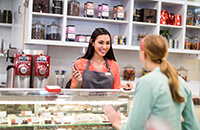 California employers with at least one full- or part-time employee must buy workers' compensation insurance. California employers can buy coverage from private insurance companies or the state-run fund. Workers' comp insurance from The Hartford helps pay for medical expenses needed to treat job-related injuries and illnesses. Workers' compensation insurance may also help California employees keep an income if they must take time off from work to recover from a work-related injury or illness. In California, there are certain coverage exemptions that employers should be aware of:
Sole proprietors don't need coverage. They can elect to have coverage.1
Partners are included in coverage and they can't exempt themselves.2
Executive officers and directors of corporations can be excluded if they fully own the corporation.3
LLC members working in the business are included in workers' compensation coverage. Members of the LLC that don't work in the business are excluded, but can elect for coverage.4
Our specialists can help you get the coverage you need to protect your California business.
Employers that don't have workers' comp are in violation of the California Labor Code. A "stop order" may be issued. This can close business operations until the employer gets coverage.5
Proof of Workers' Compensation California Coverage
Proof of workers' compensation insurance coverage is also known as a certificate of insurance. It proves you have workers' comp coverage in the state. And it includes important details about the policy. The Hartford can quickly send a certificate of insurance to certify that a business has coverage. Get a
quote
to learn more about getting proof of coverage for workers' compensation insurance in California.
What's Covered Under Workers' Compensation Insurance in California
Workers' compensation insurance in California covers quite a few things. It is mutually beneficial for both employees and employers.
Workers' comp benefits include:
Help covering medical care costs
Temporary disability benefits
Supplemental job displacement benefits
Death benefits3
For California employers, workers' comp can help pay for legal fees if an employee's family files a lawsuit because of a work-related injury or illness.
Get a Quote for Workers' Compensation in California
The Hartford makes it easy to get business insurance. Get a
quote
or call
1-855-829-1683
to talk to one of our specialists.
California Workers' Compensation Law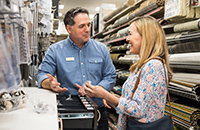 Failing to have workers' compensation insurance in California is a criminal offense. California workers' compensation law states employers must provide no-fault insurance against workplace injuries and illnesses to all workers. The law prevents employers from having employees pay for or offset the cost of workers' comp coverage. In return, employees can't file lawsuits against employers if they get sick or hurt on the job. This also means employees can't typically file a lawsuit seeking compensation for pain and suffering.
The California Division of Workers' Compensation manages workers' comp claims. The Division also runs the workers' compensation court system. The court system is used to resolve disputes over benefits.6
California Workers' Comp Settlement Types
Not all workers' compensation claims are disputed or go to trial. But if a case does go to trial, a settlement may be reached beforehand. A dispute may occur over whether or not the injury happened at work. Not all workers' compensation cases are decided by a workers' comp judge. So most injured employees can choose from two types of workers' comp settlements. A Stipulated Finding and Award is one type of workers' comp settlement. The second common type of settlement is called a Compromise and Release. Which settlement is used is dependent on the circumstances.7
Stipulated Findings and Award
A Stipulated Findings and Award is used when an injured worker may need future medical care because of a permanent disability. A benefit awarded in a Stipulated Findings and Award settlement is ongoing medical treatment. The ongoing medical treatments are paid by the employer.8
Compromise and Release
An injured worker who settles with a Compromise and Release settlement agrees to accept a specified one-time payment of money. The employee accepts the lump sum to resolve the workers' compensation claim.9
California Workers' Compensation Claims
To file a claim for workers' compensation in your state, visit our
claims
page today.
This article provides general information, and should not be construed as specific legal, HR, financial, insurance, tax or accounting advice. As with all matters of a legal or human resources nature, you should consult with your own legal counsel and human resources professionals. The Hartford shall not be liable for any direct, indirect, special, consequential, incidental, punitive or exemplary damages in connection with the use by you or anyone of the information provided herein.