Workers' Compensation PA Insurance

Workers' compensation is mandatory for most employees under Pennsylvania law.
Workers' compensation insurance
provides coverage to injured workers or employees who become ill as a result of work or for a job-related injury. Coverage can include:
Replacing some lost income
Medical care for a work-related injury or illness
Death benefits
It may also help the business owner cover the cost of related legal fees if a worker's family sued the company as a result of an accident.
In the Keystone state, employers can get workers' comp insurance through different insurance carriers. Workers' compensation insurance can help protect your business and employees if:
An employee slips and falls, injuring their back. He must visit a doctor. The injury could take months of recovery time. Workers' comp can help cover the medical costs. It can also help replace some of his lost income.
An employee is driving a shipment from a warehouse to a store. She gets injured in a car accident and requires hospitalization. Workers' comp can help pay the hospital fees.
An employee develops carpal tunnel syndrome after months of bad ergonomics. Workers' comp can help cover the costs of ongoing care. If the employee has to miss work, it can also help replace some of the lost income.
Workers' Compensation: PA Coverage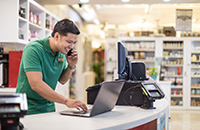 Workers' compensation insurance in Pennsylvania from The Hartford helps pay for the medical expenses needed to treat job-related injuries and illnesses. Pennsylvania's Department of Labor and Industry states workers' comp insurance may also help employees keep their income if they must take time off from work to recover from an injury.
2
Workers' Compensation Insurance: PA Requirements and Exemptions
Ensuring your Pennsylvania employees are safe against injury on the job is an essential component of business operations. Almost every business in the U.S. that has employees must have workers' compensation coverage.
In Pennsylvania, some employers are exempt from providing workers' compensation insurance. These exemptions include:3
People who are insured under other workers' compensation acts. This includes railroad workers, longshoremen and federal employees.
Agricultural workers who work fewer than 30 days or earn less than $1,200 in a calendar year from a sole employer.
Employees who are granted an exemption due to religious beliefs or their executive status.
Specialists at The Hartford can help ensure that your Pennsylvania business gets the coverage it needs. Get a
quote
today or call
1-855-829-1683
to speak to a representative.
Proof of Workers' Compensation PA Coverage
Proof of workers' compensation insurance coverage in Pennsylvania is easy when you're insured with The Hartford. Proof of coverage can help you prove you have coverage in the state. It can also tell you the types of injuries covered in your policy.
What's Covered by Workers' Compensation Insurance in PA
Workers' compensation insurance in PA is beneficial for both employees and employers. It provides benefits to employees who become injured or ill for work-related reasons. It can also provide payments to an employee's beneficiaries if the employee dies due to a work-related cause. Pennsylvania workers' compensation insurance covers:4
Health care expenses: Surgery, doctor visits, medicine, medical equipment and lab tests.
Ongoing care expenses. For example, an employee trips and falls and breaks his leg. He needs months of physical therapy to recover from his injury.
Illnesses. An employee can get sick from exposure to chemicals or allergens. Workers' comp can help cover an employee's treatment costs.
Repetitive injuries, such as carpal tunnel syndrome.
Partial disability payments that may compensate employee unable to work at full capacity.
Total disability payments to compensate employees who are unable to return to work.
Permanent injury payments, which may compensate for loss of a body part.
Death benefits may be paid to a spouse and minor dependents if an employee dies from work-related injury or illness within 300 weeks after injury.
Get a Quote for Workers' Compensation in PA
The Hartford makes it easy to get a workers' comp quote online. Talk to one of our specialists or get a
quote
online today. You can also call
1-855-829-1683
to speak to one of our specialists. They can help answer your questions and get your employees protected.
PA Bureau of Workers' Compensation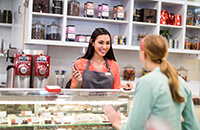 The PA Bureau of Workers' Compensation mandates that workers' compensation coverage is mandatory for most employers. Employers who do not have coverage may be subject to lawsuits by employees. Employers may also be subject to criminal prosecution by the commonwealth.
In 1915, the Pennsylvania Legislature enacted the Pennsylvania Workers' Compensation Act.5 Under this act, the Department of Labor & Industry and the Bureau of Workers' Compensation may carry out administrative and appeal obligations. The agencies can also determine compensation for employees who are injured or who experienced an occupational disease as a result of employment. Compensation is given without regard to fault. The statute defines the benefits available to Pennsylvania workers. It also defines the conditions under which benefits are available and how to obtain them.6
PA Workers' Compensation Laws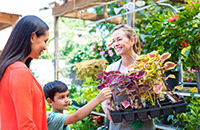 Under the PA Bureau of Workers' Compensation, employees receive medical treatment and are compensated for lost wages that are the result of a work-related injury or disease. Employers provide for the cost of the coverage, while being protected from direct lawsuits by employees.
Employees are covered for their entire period of employment. This means that coverage begins the first day on their job. Any injuries or diseases caused or aggravated by employment are covered under workers' compensation. This is regardless of the employee's previous physical condition.7
Pennsylvania Workers' Compensation Claims
To file a claim for workers' compensation in Pennsylvania, visit our
claims
page today.